Early in Monday's game versus the Chargers, it appeared the rhythm between quarterback Jay Cutler and wide receiver Alshon Jeffery was a tad off. Facing a 3rd-and-7 on the contest's opening drive, Cutler found an open Jeffery, but the ball went through the receiver's hands. In the second quarter, Jeffery ran a hitch route and cut inside to the middle of the field. Cutler thought his receiver was going to the sideline and threw the ball that way. The only player there was San Diego's Justin Verrett, who went 68 yards the other way for an interception return for the touchdown.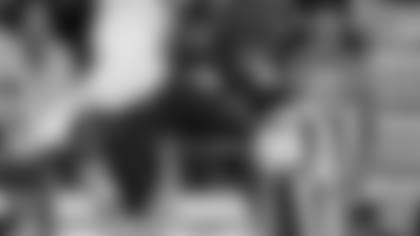 Alshon Jeffery had 10 catches for 151 yards against the Chargers on Monday Night Football.
Eventually the quarterback and receiver synced up, and once they did, the entire Chicago offense thrived, leading the team to a 22-19 victory. Despite not having starters Kyle Long and Eddie Royal because of injuries, Chicago piled up 25 first downs and 446 net offensive yards – both of which were season highs for the Bears. Much of that had to do with Cutler and Jeffery, who have been a dynamic pairing since both have returned to the lineup following early-season injuries. It also had to do with a less-heralded member of the offense, rookie running back Jeremy Langford, who stepped up big time with Forte sidelined.
For a team who now has five consecutive games decided in the final four minutes of regulation or overtime, seeing the offense deliver when needed was promising.
"We've been there before but we just didn't make a couple of plays," Jeffery said. "(On Monday) we believed in ourselves and believed in each other that we could do it."
Jeffery missed four games with a sore hamstring early in 2015, but since returning to the field on Oct. 18 in Detroit, he's looked as strong as any receiver in the NFL. Versus the Chargers, he had 10 catches for 151 yards. Jeffery didn't find the end zone, though his 47-yard reception in the second quarter set up Chicago's first score of the game, and his 16-yard reception at the end of the third quarter paved the way for Langford's TD in the fourth.
In his three games since returning to the Chicago starting lineup, Jeffery has 28 receptions for 414 yards. Cutler clearly has confidence in his big target on the outside, and the receiver appears to be playing with the feeling that nobody can stop him.
"Unreal," Cutler said when asked to recap Jeffery's performance the past three weeks. "He's been so consistent with huge numbers. He's catching short routes, breaking tackles on slip screens and we haven't seen looks like that out of him. He's doing everything he can and we're putting him in different spots. He's still making big catches on the outside and he's making it easy on me."
Jeffery was always going to be Chicago's number one receiver; the only thing holding him back earlier in the year was an injury. Langford's path to contributing big on a national television stage is the opposite. The rookie from Michigan State was selected in the fourth round in May to be a complimentary player to Forte. However when the starting running back left the Week 8 game against Minnesota because of soreness in his knee, Langford was moved into a larger role. Ka'Deem Carey technically received the start in San Diego, but it was Langford who proved to be the workhorse back.
Versus the Chargers, Langford showed how much he had learned, turning in a very Forte-like performance. He finished with 72 rushing yards on 18 carries, along with three receptions for another 70 yards. His 1-yard touchdown plunge early in the fourth quarter cut the Chicago deficit to just two points. At the end of the final quarter, Langford's successful 2-point conversion gave the Bears a three-point lead.
"Really it was kind of what we expected, and we expected a lot," head coach John Fox said about the rookie running back. "He's explosive. He can take short runs into longer runs. I thought he had a great night."
For Langford, the strong performance was a bit of vindication. A week ago versus Minnesota, the rookie dropped a key pass at the end of the fourth quarter that could have helped Chicago drive to take the lead. This time, he stepped up when needed, showcasing to his teammates, coaches, Bears fans and a national TV audience that he could deliver. Most importantly, Langford showed it to himself.
"Yeah, that was my whole point, to make up for that play last game," Langford said. You want to forget about those plays, but when the coaches are trusting you and (Jay) Cutler is trusting you, you have to go out there and make that play.
"Football is about confidence, to feel like you can go out there and make that big play that the team needs to make," the rookie back added.
It was just one night, but the entire Bears offense is surely feeling confident. Jeffery has been a beast and the young running back is showing he belongs. With the team's run of poor health hopefully coming to an end, the Chicago attack is showing opponents how dangerous it can be when everyone's in rhythm.