Bears receiver Alshon Jeffery said Thursday that his ailing hamstring feels "a lot better than last week," but he doesn't know whether he'll be able to play Sunday in Detroit.
The fourth-year pro, who was limited in Thursday's workout for the second straight day, has missed the last four games with an injury he suffered in practice leading into Week 2.
"I'm just making progress every day," Jeffery said. "We'll evaluate it. Let's just see what the coaches say and see how it feels. We're a couple of days away from Sunday, so we'll see."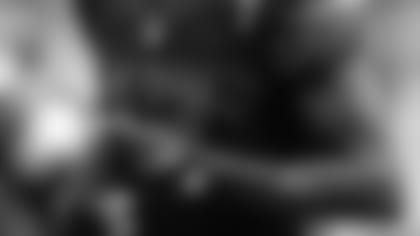 WR Alshon Jeffery has missed the last four games with an injury he suffered in practice leading into Week 2.
Jeffery missed the entire preseason with a calf injury, returned to catch five passes for a team-high 78 yards in a season-opening loss to the Packers, and then got hurt again.
"It's been frustrating at times," Jeffery said. "But I have great teammates and great coaches and great people around me that are keeping me in good spirits."
Quarterback Jay Cutler is in the process of reconnecting with Jeffery, who led Bears receivers with 1,133 yards and 10 touchdowns last season. Jeffery practiced on a limited basis last Wednesday and Thursday before sitting out Friday's workout and Sunday's game in Kansas City.
"I've thrown stuff to him over the last couple of weeks as he's eased into it," Cutler said. "It'll happen pretty quickly. I think the biggest thing with him is just staying in shape and being able to stay in game shape because the rest of us are kind of there."
Jeffery established himself as one of the NFL's premier receivers over the past two seasons, ranking fifth in the league with 2,554 yards during that span. The 2012 second-round pick from South Carolina has recorded the top two most prolific games by a receiver in Bears history with 249 yards against the Vikings and 218 versus the Saints, both in 2013. He also has compiled the second most and eighth most yards in a season by a Bears receiver with 1,421 in 2013 and 1,133 in 2014.
While young receivers such as Marquess Wilson and Cameron Meredith have stepped up in Jeffery's absence, there's no question that his return—whenever that may be—will be a game-changer for the Bears.
"I think we're going to be able to open things up a little bit," said offensive coordinator Adam Gase. "We haven't really been able to attack down the field. A lot of our guys ... [Wilson] has tried to do a good job with what we ask him to do.
"[But] I know Alshon is a special cat. The way that he goes up and gets the ball, it's rare to see. I know there are a few guys that can do it, but it seems like a contested throw, he wins a lot. Like [receivers coach Mike] Groh always would say, 'He's an above-the-rim player,' and there are not a lot of those guys around the league."
Jeffery has no doubt that he'll be just as productive as usual when he returns to game action.
"I'm still the same player," he said. "I'm not going to change. Injuries are a part of the game, but when you get back you are still the same player."