Bears receiver Alshon Jeffery's status for Sunday's game in Tampa is unknown after he missed practice Thursday for the second straight day with a hamstring injury.
The 2012 second-round draft pick has been in and out of the lineup all season due to a variety of injuries, beginning when he sat out all four preseason games with a calf injury. In addition to his hamstring and calf, he's also been hampered by groin and shoulder issues.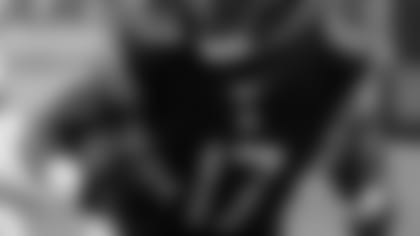 Bears receiver Alshon Jeffery's status for Sunday's game in Tampa is unknown after he missed practice Thursday for the second straight day.


"It's not as tough for me as it is probably for him," said offensive coordinator Adam Gase, "just because you want to get into that flow of how maybe I might be able to call it, how Jay [Cutler] likes to move his checks around and what he might get to, kind of that timing aspect of it if we get into that part of our passing game.
"You lose a little bit of that. There's been some times where we've had some chances for some big plays down the field and it's just we repped it. It starts in training camp. That's the hardest part. When you lose a guy as early as we did and it's just been consistent throughout the year where it's off and on, it's just hard to get that timing."
Despite missing five games, Jeffery still leads the Bears in receiving with 54 catches for 807 yards and four touchdowns. He tied a team record with three straight 100-yard games beginning in Week 6 and added a fourth Dec. 13 when he caught six passes for 107 yards and one TD in a loss to the Redskins.
"When he's out there, he's a force for us," Gase said. "He makes a big difference, and I think defenses have to account for him. He's done a good job of making sure that he knows the playbook so we've been able to move him around. I think that's caused defenses a lot of problems trying to figure out where he's at.
"We've gotten some different match-ups that have caused problems, but obviously I would like to have him out there as much as possible just because he is a guy that they really have to focus on."
With Jeffery sitting out most of the second half last Sunday against the Vikings, Cutler failed to complete a pass of more than 20 yards for the first time this season. Like Jeffery, other Bears receivers such as Eddie Royal and Marquess Wilson are downfield threats who also have been injured this season.
"[Jeffery] is kind of our deep guy," Cutler said. "We like to try to stretch the field with him. The rest of the guys ... we'll try to keep incorporating those guys. It's just tough with guys in and out of getting some consistency and a feel for those guys because a lot of those [deep] throws are lower percentage as is, and then a guy that you haven't done it with as much, the percentage is probably going to go down a little bit more."
It remains to be seen whether Jeffery will play in either of the Bears' final two games. But coach John Fox doesn't plan on shutting him down at this point.
"I put him in the medical people's hands," Fox said. "I have no idea. I don't really look at it that way. If a guy is available, he's available. I'm not going to deny a player the right to play, whether there are two games or 12 games left."