Alshon Jeffery isn't concerned about replacing Brandon Marshall as the Bears' No. 1 receiver or posting Pro Bowl numbers. His only focus is on helping to lead his team to a title.
"My personal goal is just to win the division and try to win a world championship," Jeffery said.
The 2012 second-round pick from South Carolina has blossomed into one of the NFL's top receivers. He was voted to the Pro Bowl in 2013 after catching 89 passes for 1,421 yards and seven touchdowns and followed with 85 receptions for 1,133 yards and 10 TDs last year.
Jeffrey's 2,554 yards the past two seasons rank fifth in the NFL behind the Steelers' Antonio Brown (3,197), the Broncos' Demaryius Thomas (3,049), the Packers' Jordy Nelson (2,833) and the Lions' Calvin Johnson (2,569).
Jeffery compiled those numbers while playing alongside Marshall, who was traded to the New York Jets in March. But Jeffery isn't worried about filling his former teammate's shoes this season.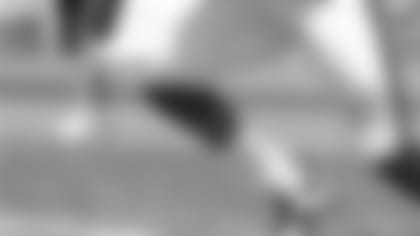 Receiver Alshon Jeffery runs a route during training camp practice in Bourbonnais.
"I'm just doing my job; whatever it takes for us to win," Jeffery said. "Whether that's me blocking, catching the ball, it doesn't matter. It's not one guy who stands out on our team. It takes 11 guys on the field. So each one of us has our part."
It doesn't matter to Bears coach John Fox whether Jeffery is labeled a No. 1 receiver as long as the 6-3, 216-pounder continues to produce like he has in the past.
"A receiver is a receiver," Fox said. "Whether you are a 1, 2, 3, all that matters is that you are on the field playing. But I've liked what he's done and like the way he competes. He's got a big wingspan and a big ball radius as far as plucking catches away from defenders. I've liked what I've seen."
Fox fans: Judging by their effort and enthusiasm on and off the field, it's clear that Bears players are ecstatic about being coached by Fox.
"The guys have been very receptive," Fox said. "That's half the battle; their mindset and work ethic. So far, they've done everything we've expected and asked. When we start competing in live games, that's the measuring stick."
Fox came to the Bears with an excellent reputation after transforming two last-place teams into Super Bowl participants. He guided the Panthers to an 11-5 record and a Super Bowl berth in 2003 after inheriting a team that went 1-15 in 2001. Taking over the Broncos after they went 4-12 in 2010, Fox led Denver to four straight division titles and a Super Bowl appearance while compiling a 46-18 record.
"This league is a tight fraternity of people," Fox said. "People kind of know what's going on in this league. There are only 32 of us in the world. Whether you're a player or coach, assistant coach, personnel man, word travels. Guys are very willing to be good when they know you can make them better."
Buying in: Special-teams standout Sherrick McManis has enjoyed working with new coordinator Jeff Rodgers, who held the same position under Fox the past five seasons in Carolina and Denver.
"It's still pretty early, but I feel that guys are buying in," McManis said. "We believe in coach Rodgers and we're excited to go out there and play. Right now in camp we're just sticking to fundamentals and trying to play fast. Special teams is a lot of effort and I see a lot of the young guys doing that."
McManis described Rodgers as a "straight-forward guy" who "let's you know what you need to do."
"He doesn't sugarcoat anything," McManis said. "He just keeps it 100 percent honest with you and he lets you know what you're good at."
Camp notes: Left tackle Jermon Bushrod returned to practice Sunday after a day off Saturday. ... Jeffery suffered what Fox described as a "slight AC sprain in his shoulder" but finished the practice. ... Receiver Kevin White and quarterback David Fales remain sidelined and on the physically unable to perform list. ... Former Bears offensive lineman Kurt Becker, a member of the 1985 Super Bowl XX championship team, visited camp Sunday.