Alshon Jeffery arrived at Ford Field Sunday morning officially listed as questionable for the Bears' Week 6 game against the Lions. In casual terms, that meant there was a 50/50 chance Jeffery would suit up. The receiver had missed Chicago's last four games because of a hamstring injury, and it would take an evaluation after pregame warmups to determine if he felt well enough to play.
Team trainers and the receiver himself determined he was well enough to play, and Jeffery made his presence felt in his comeback. Suiting up for the first time since Sept. 13, Jeffery finished with eight receptions for 147 yards and a touchdown. The play was not enough to lead Chicago to a victory, as the Lions won 37-34 in overtime. However, the wide receiver's return to the lineup did spark the Chicago passing attack.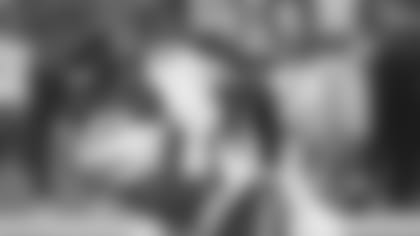 Alshon Jeffery finished with eight receptions for 147 yards and a touchdown.
"It was good to see him out there today," quarterback Jay Cutler said of Jeffery's return. "I thought he played his tail off, made some big-time catches for us."
Since Jeffery has been sidelined, the team has lacked a consistent downfield passing threat. The Bears have looked to stretch the field, but those opportunities have been few and far between, as Chicago averaged 5.75 yards per pass attempt in Week 2 through 5. Very few players in the NFL can equal Jeffery's combination of size, speed and ability to grab the ball in the air, so his re-insertion into the lineup would provide a great boost to the Chicago passing game.
Cutler mentioned that any time he saw single coverage on No. 17, he knew he was heading Jeffery's way with the ball. With the confidence his receiver could win a 1-on-1 matchup regardless of who the Lions had defending him, Cutler looked to gain large chunks of yardage through the air. The Bears averaged 8.4 yards per pass attempt, with Jeffery playing a big role in that by averaging more than 18 yards for each of his eight receptions. Four of his catches went for over 20 yards, while two other receivers – Marquess Wilson and Eddie Royal – also had receptions of 20-plus yards in the loss.
"If you watch the game, just down the field, stretching the ball down the field, that down-the-field threat, we've been dinking and dunking a little bit when (Alshon) wasn't in there," running back Kyle Long said. "(Marquess Wilson) was able to stretch the field a little bit, too. But Alshon being in there, he was able to catch the ball down the field a lot and open up some of the other guys, too, in the passing game."
Jeffery was especially useful in Chicago's final drive of the fourth quarter. Trailing by three and starting at their own 20 with just 21 seconds to play, the Bears offense needed to get into range quickly. Cutler never took his eyes off his top receiver. On the first snap, the quarterback hit Jeffery down the right sideline for a gain of 25 yards. The Bears ran the same play again, and even though Lions defensive back Josh Wilson interfered, Jeffery hauled in a 24-yard gain (the penalty was declined). Finally, with the defense focusing s much on Jeffery, Cutler looked elsewhere, throwing deep to Wilson to draw a penalty. The play set up Robbie Gould's game-tying 29-yard field goal as time expired in regulation.
"It felt great to be back out there with my teammates," Jeffery said.
"He's just a difference-maker," Cutler added. "You get Alshon over there and he makes you feel comfortable. You can throw the ball 1-on-1 and more times than not good things are going to happen."
Jeffery started Sunday as questionable to play and finished the afternoon with his most receiving yards in a game since he set a franchise record with 249 yards on Dec. 1, 2013. With a bye week coming up to rest, the big-play receiver should be ready to help the Chicago passing game have its deep threat moving forward.
"The sky is the limit," Jeffery said. "We just have to get healthy and just capitalize on it more when we get in the red zone. That's about it."