In the third of a nine-part series, ChicagoBears.com takes an in-depth look at the Bears' receiver position heading into the 2017 offseason.*
One of the most important issues the Bears will face over the next few months will be resolving receiver Alshon Jeffery's contract situation.
Jeffery played the 2016 season under terms of the franchise tag and is due to become an unrestricted free agent in March. The Bears seemingly have three options: 1) Sign Jeffery to a long-term deal; 2) Place the franchise tag on him again at a cost of about $17.5 million for 2017; or 3) Allow him to sign elsewhere in free agency.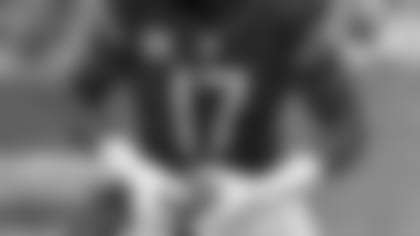 Alshon Jeffery played in 12 games in 2016, catching 52 passes for 821 yards and two touchdowns.


Jeffery played in 12 games in 2016, catching 52 passes for 821 yards and two touchdowns. His only 100-yard outing came in a season-opening loss to the Texans. Jeffery did not miss any games due to injury, but he was suspended for four contests for violating the NFL policy on performance enhancing substances.
Jeffery had 89 receptions for 1,421 yards and seven touchdowns in 2013 and 85 catches for 1,133 yards and 10 TDs in 2014. But multiple injuries limited him to nine games in 2015 and his production dipped to 54 receptions for 807 yards and four TDs.
Jeffery surpassed Hall of Famer Walter Payton for third place on the Bears' all-time receiving list with 4,549 yards, trailing only Johnny Morris (5,059) and Harlon Hill (4,616).
While Jeffery remained healthy throughout the season, injuries once again decimated the Bears' receiving corps.
Kevin White, a 2015 first-round draft pick, returned after missing his entire rookie season with a stress fracture in his leg. White set a Bears record for the most receptions in the first four games of a season with 19. But he was again lost for the year when he broke his fibula in the same leg he injured as a rookie in a Week 4 win over the Lions.
Veteran Eddie Royal was limited to nine games by a toe injury, catching 33 passes for 369 yards and two touchdowns. He also averaged 8.7 yards on 19 punt returns, including a 65-yard TD in a Week 2 loss to the Eagles.
Marquess Wilson ended his season in mid-December after breaking his left foot in practice for the third time in just over a year. Wilson missed the final five games in 2015 after breaking his foot for the first time. He broke it again in June during a minicamp practice and spent the first six weeks of the season on the PUP list.
Wilson appeared in three games in 2016. In his only start he established career highs for receptions (eight) and yards (125) in a Week 12 loss to the Titans.
The most positive development at the receiver position for the Bears this past season was the emergence of second-year pro Cameron Meredith. A quarterback his first three seasons at Illinois State, the Chicago area native led Bears wideouts with 66 receptions, 888 yards, four touchdowns and four 100-yard games.
"You've got to give credit to Cam that he stepped up and made himself very valuable, a really important part of the offense," offensive coordinator Dowell Loggains said late in the season. "Where Cam really separated himself from the rest of the group was the ability to play all three [receiver] spots.
"We can move him around when guys do get banged up. Or we've been down in a couple of these games. All of a sudden you're throwing the ball more and the receiver rotation starts to change. Cam gives you the flexibility. If [other receivers] need a break, he can step in at X, Z and F and play, and that's critical."
The rash of injuries at the receiver position gave Joshua Bellamy and Deonte Thompson a chance to play more reps on offense than expected. Bellamy caught 19 passes for 282 yards and one touchdown but had several costly drops, while Thompson added 22 receptions for 249 yards and two TDs.