Alshon Jeffery continued to shine Sunday at Soldier Field, setting a Bears single-game receiving record with 218 yards on a career-high 10 receptions in a 26-18 loss to the Saints.
With a 21-yard catch on the final play of the game, the second-year pro broke the mark of 214 yards that was set by Harlon Hill on Oct. 31, 1954 in a 31-27 win over the San Francisco 49ers.
"It's not about what I did; it's about what the team did and we didn't get the win," Jeffery said. "That's what I focus on. I'm more concerned about the 'W,' not about what I did. It's a team thing. There were 11 guys it took for me to get 200-plus yards or whatever I had."
[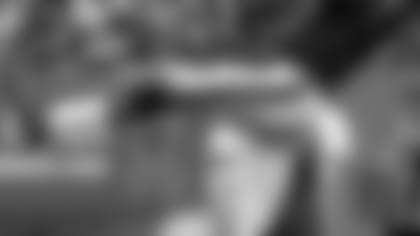 ](http://www.chicagobears.com/multimedia/photo-gallery/Bears-vs-Saints/ca7d2ad5-3fb1-4449-b39d-d13fb7404934)
Alshon Jeffery set a franchise single-game record with 218 receiving yards against the Saints. Click to view photos from the game.
Jeffery scored his team's first touchdown on a 3-yard reception from Jay Cutler in the left corner of the end zone, drawing the Bears to within 13-7 late in the first half. The score came two plays after Jeffery had sustained the drive with a 31-yard catch down the middle on third-and-five.
In the second half, Jeffery's 42-yard catch set up Robbie Gould's 27-yard field goal and the receiver's 58-yard reception led to Cutler's 2-yard TD pass to Brandon Marshall.
On the Bears' three scoring drives Sunday, Jeffery had six catches for 156 yards including gains of 58, 42 and 31 yards.
"This guy had a career day," Marshall said. "It's just awesome to see this guy mature right before our eyes. I've always said this guy could be the best to ever do it. He's probably going to shatter all the Bears records by the time he's done at the receiver position."
Under siege: The Saints recorded all three of their sacks on blitzes in the first 16 minutes of Sunday's game. Safety Malcolm Jenkins' blindside sack of Cutler resulted in a fumble that defensive end Cameron Jordan returned to the Chicago 6, setting up an early field goal.
"They were problematic," said coach Marc Trestman. "We hadn't really seen them. I thought [first-year Saints defensive coordinator] Rob [Ryan] did a good job. We had answers for them early, we just didn't get it communicated to the guys.
"Once we did, I think you see we efficiently moved the football up and down the field. Our guys did a good job of making that transition. They got us early. But I was pleased we were able to make the adjustments. I would have liked to make them sooner."
No takeaways: The Bears entered Week 5 with an NFL-high 14 takeaways, but they were blanked in that category for the first time since last Nov. 19 in a 32-7 loss to the 49ers in San Francisco.
A lot of that had to do with quarterback Drew Brees, who repeatedly hit check-down receivers in completing 29 of 35 passes for 288 yards with two touchdowns and a 120.0 passer rating.
"He's a smart quarterback," said cornerback Tim Jennings. "He didn't force anything. That's why we weren't able to get any takeaways. We wanted them to get into a long drive and give us some more opportunities. He took what the defense gave him. Of course, some of the plays he made on the field on his own. We just weren't able to get our hands on the ball."
Moving up: With a two-yard run early in the third quarter, Matt Forte surpassed Rick Casares to become the third all-time leading rusher in Bears history.
Forte finished the game with 55 yards on 12 carries, increasing his career total to 5,702 yards. He now trails only Hall of Famer Walter Payton (16,726) and Neal Anderson (6,166).