Eight days after his record performance in Minnesota, Bears receiver Alshon Jeffery's emergence as a star continued in Monday night's 45-28 win over the Cowboys at Soldier Field.
[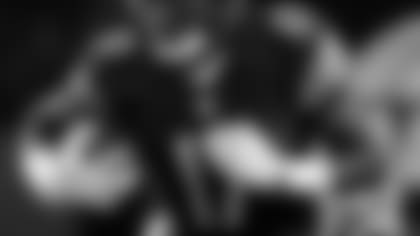 ](http://www.chicagobears.com/multimedia/photo-gallery/Gallery-Bears-vs-Cowboys/95d6f901-3cba-4512-ab38-c18583b99ece)

Alshon Jeffery gave the Bears a 24-14 halftime lead with a highlight-reel touchdown reception. Click to view photos from the game.
Jeffery's spectacular 25-yard touchdown catch from Josh McCown with :10 left in the second quarter gave the Bears a 24-14 lead and much-needed momentum heading into halftime.
"Any catch like that at the end of a half, in a close game where the team you're playing is moving the football effectively and the score is close, is big," said coach Marc Trestman. "I don't know how many players [could make that catch]. Alshon went up and made a play."
Leaping over two Cowboys defensive backs in the right corner of the end zone, Jeffery plucked the ball out of the air and got both feet inbounds as he fell backwards to the ground.
"I was just trying to give him a chance to make a play but not really put the ball in jeopardy," McCown said. "My part was relatively easy. His catch was unreal."
Jeffery scored on a similar play last Sunday against the Vikings on a 46-yard pass from McCown. It was part of a 249-yard performance that enabled the second-year pro to break his own franchise record of 219 yards set earlier this season in a loss to the Saints.
"That's two weeks in a row with him making crazy catches like that," said right tackle Jordan Mills. He's just a freak of nature. Him and Brandon Marshall and this whole wide receiver tandem is crazy. They work together tremendously. Just to see them exploding like that is great."
Jeffery caught five passes for 84 yards and one touchdown in Monday night's win over the Cowboys, increasing his season totals to 75 receptions for 1,193 yards and six TDs.
Cold as ice: With a kickoff temperature of eight degrees and a wind chill of minus-nine, Monday night's contest at Soldier Field was the fourth coldest Bears game since at least 1963.
It was the coldest since Dec. 22, 2008 when it was two degrees with a wind chill of minus-13 at kickoff in a 20-17 overtime win over the Packers at Soldier Field.
"It's a mental thing," Jeffery said about dealing with the conditions. "You just have to go out and just do your job. You've got to put the weather out of your mind and just play hard."
Dual distinction: Marshall and running back Matt Forte both achieved milestones Monday night.
With six receptions for 100 yards, Marshall eclipsed the 1,000-yard mark for the seventh straight season. He currently has 1,090 yards after setting a Bears record with 1,508 yards last year.
Forte rushed for 102 yards on 20 carries to surpass 1,000 yards for the fourth time in six seasons. He has gained 1,073 yards this year.
In his previous five seasons with the Bears, Forte rushed for 1,238, 929, 1,069, 997 and 1,094 yards. He is the franchise's second all-time leading rusher with 6,400 yards, trailing only legendary Hall of Famer Walter Payton (16,726).
With Jeffery (75 receptions for 1,193 yards), Marshall and Forte, the Bears have two 1,000-yard receivers and a 1,000-yard rusher for just the second time in franchise history. Receivers Jeff Graham and Curtis Conway and running back Rashaan Salaam accomplished the feat in 1995.
No punts: The Bears did not punt or commit a turnover in a game for the first time in franchise history. It was only the fourth time they didn't punt in a contest and the first time since Oct. 1, 1972 in a 38-24 loss to the Lions at Soldier Field.
Adam Podlesh said that Monday night marked the fifth time in his career he didn't punt in a game.
"I'm fine with it," said Podlesh, who spent his first four NFL seasons with the Jaguars from 2007-10. "I've been a part of games that I don't punt that I've lost. This is only the third win out of five times. So if we're winning, I have no problem with it."