Alshon Jeffery was the MVP of Monday's practice, making a handful of excellent catches.
The Bears receiver hauled in Jay Cutler passes deep down the left sideline, leaping over cornerback Kyle Fuller in the back of the end zone and after losing his footing on the grass.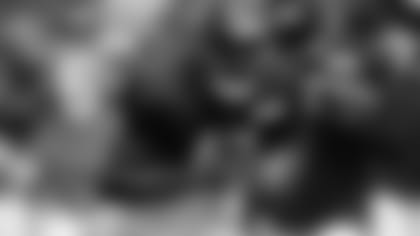 Alshon Jeffery during a training camp drill.
"On a hot, humid day like this was today, I thought he did a heck of a job competing each period," said receivers coach Mike Groh. "When he was in there it was full go. It was as hard as he could go, as much as he could give us offensively. He made plays. He's got to be that guy that Jay can count on in those sticky situations, and I think he's becoming that."
Selected by the Bears in the second round of the 2012 draft, Jeffery has blossomed into one of the NFL's top receivers. He was voted to the Pro Bowl in 2013 after catching 89 passes for 1,421 yards and seven touchdowns and followed with 85 receptions for 1,133 yards and 10 TDs last year.
Jeffery figures to remain a key part of the Bears offense under first-year coordinator Adam Gase.
"I see a dominant guy," Gase said. "I really have enjoyed watching him come along since the spring. There are times where he looks unstoppable, and really we have to see how far we can take him, see how far we can grow his route tree, and we'll just keep finding ways to get him the ball."
Productive player: Receiver Marquess Wilson also excelled in Monday's practice, making a one-handed grab deep down the middle of the field.
Wilson has performed well in training camp just like he was doing a year ago in Bourbonnais before sustaining a broken collarbone that sidelined him for the first nine games of the season.
"He made a great catch today, didn't he, making that play in a two-minute situation for us," Groh said. "I think he's had a productive camp, really kind of picked up where he was last summer.
"I'm pleased with his progress. He's a guy that we believe has enough skills to be a productive player for us in this offense and in this system."
Impressed with Gase: Groh, who is the only assistant coach from the previous staff to be retained in the same position, has enjoyed working with Gase.
"The thing I love about his offense is that he fits his talent," Groh said. "The offense is designed around the talent that he has available to him. That's the sign of a great coordinator. And it's the sign of a guy who knows exactly what he's doing.
"Obviously the players respect that. We're not asking them to do things that they're not physically capable of doing. But the thing I love about him is that if there is a challenge or a roadblock that goes along with our approach, he challenges those guys to attack it. That's what he has a great knack of doing. And I think it's going to pay off for us in the long run."
Camp news: Backup quarterback Jimmy Clausen made one of his best throws of camp, hitting receiver Josh Bellamy for a touchdown in the left corner of the end zone. But Clausen later threw a pass that was intercepted by cornerback Tracy Porter and returned down the left sideline for a TD... Cutler still has not thrown an interception in 7-on-7 or 11-on-11 drills in 10 training camp practices.