Rookie receiver Alshon Jeffery will be sidelined 2-4 weeks after undergoing arthroscopic knee surgery Wednesday to repair an injury he sustained in Monday night's loss to the 49ers.
The second-round pick had missed the previous four games with a hand injury before returning to action in San Francisco, where he caught two passes for 15 yards.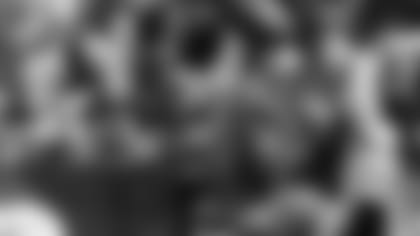 Alshon Jeffery hauls in a 42-yard TD pass from Jay Cutler in a Week 1 win over the Indianapolis Colts.
"We were so happy and pleased to have him back," said offensive coordinator Mike Tice. "That's part of the NFL. Injuries are a significant part of the NFL. Now with this we just have to regroup and refocus and go back to where we were a couple weeks ago."

Jeffery, who has 16 receptions for 199 yards and two touchdowns in six games this season, is expected to return sometime in December.

"It's not ideal when we just got him back to be out a few more weeks," said coach Lovie Smith. "But he is coming back, which is a good thing. We're a better football team with him."

"We've been riding without him," said quarterback Jay Cutler. "It was exciting to get him back. I wish I had him going forward the rest of the year. Hopefully he has a fast recovery."

On the mend: While Cutler would have been able to practice on a limited basis had the Bears worked out Wednesday, defensive end Shea McClellin has been cleared to practice without restrictions following the concussion he sustained Nov. 11 against the Texans.

Their availability for Sunday's home game against the Minnesota Vikings remains uncertain.

"They're both making progress," Smith said. "I don't know for sure if either one will be able to play Sunday or not, but they are making progress and hopefully they will be able to."

Tight end Kellen Davis (ankle) and receiver Brandon Marshall (shoulder) would not have been able to practice Wednesday, while quarterback Jason Campbell (ribs) and defensive tackles Stephen Paea (shoulder) and Matt Toeaina (shoulder) would have been limited.

No thanks: Cutler would be adamantly opposed to any rule that requires all players who sustain concussions to sit out one game.

"Not at all," said the Bears quarterback. "Every person is different and every hit is different. I don't think you can give a blanket protocol of one week off. It's not fair to the players."

Stepping up: Defensive end Corey Wootton's performance this season earned him the first start of his three-year NFL career Monday night in place of Israel Idonije.

"It's all based on production, and if we feel we have a better option that we haven't taken a look at, we'll always go to that," Smith said. "Once we feel like a guy has warranted getting an opportunity to start or get playing time we make those moves, and that's how it's been."

Wootton is tied with Idonije for third on the Bears with 4.5 sacks. The 2010 fourth-round pick from Northwestern also has recorded 11 tackles, eight quarterback pressures and two forced fumbles.