INDIANAPOLIS — Battling back from a devastating knee injury he suffered in October, running back Marcus Lattimore is thankful for the support he's received from a key member of the Bears.
Lattimore and receiver Alshon Jeffery were teammates at South Carolina and remain close friends, building on a relationship that began even before they joined forces in Columbia in 2010.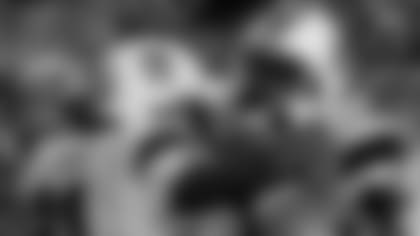 Marcus Lattimore (left) and Alshon Jeffery celebrate a South Carolina touchdown.
"He was big for me going to South Carolina," Lattimore said Friday at the NFL Combine. "He sent me a text right before signing day. He still calls and texts me every day. He just texted me this morning as a matter of fact and said good luck. He's a real good guy."

Lattimore was projected to be a first-round draft pick before he tore his ACL, LCL and PCL and dislocated his right knee Oct. 28 against Tennessee. The gruesome injury came about a year after he had sustained a torn ACL in his left knee that forced him to miss South Carolina's final six games.

Lattimore had rushed for 662 yards before getting injured last year in the ninth game of the season. Seeing his friend suffer the same cruel fate a second year in a row was demoralizing to Jeffery.

"I'm just sad that it happened," Jeffery said at the time. "He was coming back from an injury. The ACL surgery didn't stop him and he was out there doing great things. As soon as I saw it happen, I couldn't believe it, not only because he's a football player, but he's a great person off the field."

Things appear to be looking up for Lattimore. Orthopedic surgeon Dr. James Andrews told ESPN this week that Lattimore is three months ahead of schedule in his rehab and could play in the NFL this season.

Despite undergoing a battery of medical tests that lasted nearly four hours and being unable to participate in drills, Lattimore told reporters that he's thrilled to be at the Combine.

"It's a blessing to be here, no doubt," he said. "I would not take this opportunity for granted that I have to be at the Combine. I just think about guys who are less fortunate than me, guys who would kill to be in my shoes, even with the injury. That's what keeps me going, that's what keeps me motivated, knowing that people would kill to be in my shoes right now."

As teammates at South Carolina, Jeffery and Lattimore had breakout seasons together in 2010. Jeffery caught 88 passes for 1,517 yards and nine touchdowns, while Lattimore rushed for 1,197 yards and 17 TDs and caught 29 passes for 412 yards and two touchdowns.

The Bears traded up in the second round of the draft to select Jeffery with the 50th overall pick. He caught 24 passes for 367 yards and three TDs in 10 games, missing six contests with injuries.

Asked about the possibility of rejoining Jeffery with the Bears, Lattimore smiled and said: "That would be great. Him and Brandon Marshall, that would be nice."