Opponents have had a difficult time covering Alshon Jeffery this season. But the Bears star receiver hasn't been as elusive when it comes to avoiding the injury bug.
Jeffery sat out practice Thursday after tweaking his groin in Wednesday's workout, making his availability for Sunday's game in St. Louis unclear.
"He was in there for treatment all day," said coach John Fox. "We'll see what tomorrow brings."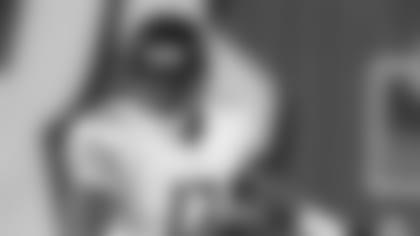 Alshon Jeffery has shown his game-breaking ability, tying a Bears franchise receiving record with three straight 100-yard outings.
Jeffery has battled injuries since the summer. He missed the entire preseason with a calf injury, returned to catch five passes for 78 yards in a season-opening loss to the Packers, and then hurt his hamstring a few days later in practice, an injury that sidelined him for four games.
Asked whether he thinks Jeffery is injury prone, coach John Fox said: "No. We're in a very physical, combative game. I've heard medical people say, 'Well, he needs some rest.' I'm like, 'Well, no kidding. That's a little better for you than going out and playing 60 minutes of football on a Sunday. That's not very restful.'
"It's just a physical game, really no matter what position you play. Picture being in a car wreck every day. That's what these guys do."
Since returning from the hamstring injury, Jeffery has shown his game-breaking ability, tying a Bears franchise receiving record with three straight 100-yard outings.
After catching eight passes for 147 yards and one touchdown in a loss to the Lions before the bye week, Jeffery had 10 receptions for 116 yards and one TD in a defeat to the Vikings and 10 catches for a season-high 151 yards in Monday night's win over the Chargers.
"He just makes things easier," said quarterback Jay Cutler. "Whenever you have 1-on-1s, you know you have a guy that's going to win, and that's kind of the world we've lived in the past three games. If we have 1-on-1 match-ups, more than likely the ball's going to head his way because we feel comfortable he's going to win."
Jeffery was livid Monday night after Chargers cornerback Jason Verrett intercepted a Cutler pass that was thrown in the receiver's direction and returned it 68 yards for a touchdown. Jeffery immediately approached offensive coordinator Adam Gase on the sideline and urged him to call a deep pass on the very next play.
Gase obliged and Jeffery beat Verrett for a 47-yard reception, setting up the Bears' first touchdown of the game.
"[Jeffery] wanted us to come back at him and take another shot," Cutler said. "To Adam's credit, throwing a go-ball after a pick-six isn't your normal protocol, but he dialed it up and Alshon made a heck of a move at the line and made a heck of a catch."
Gase told reporters that he thought he was "probably crazy" for calling the play and knew that he'd hear from Fox if it wasn't successful. But the offensive coordinator pulled the trigger ultimately because he trusted his players.
"I had faith that Jay was going to make the right decision," Gase said. "I had no doubt that [Jeffery] was going to make a play on the ball. Jay was calm about it, saying: 'You call it, we'll make it happen.' So I felt good about it, those two felt good, we dialed it up and they made a great play."
Gase was impressed with how determined Jeffery was in stating his case to throw the ball deep after the costly pick-six.
"Anytime you see that fiery competitiveness out of a player, you respect that and honor it," Gase said. "You could feel that he meant what he said to me."
Cutler liked the assertiveness that Jeffery showed as well.
"I think he's trying to take a little bit more of that leadership role, a little bit more of that No. 1 guy," Cutler said. "We've had other guys here who we've featured and now he's kind of the guy. I think he likes the role."
Jeffery no doubt will continue to flourish in that position, provided he can steer clear of the injury bug.