Earning his first trip to the Pro Bowl following a breakout 2013 season, Alshon Jeffery has been ranked the 54th best player in the NFL in a poll of league players conducted by NFL Network.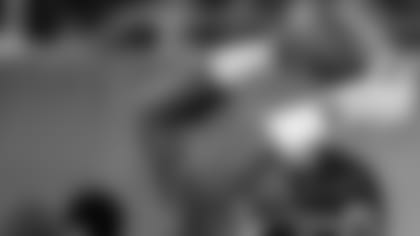 Alshon Jeffery's 25-yard TD catch was voted the Bears' top play of the season.
The Bears receiver was featured on Wednesday night's episode of "The Top 100 Players of 2013," which unveiled players ranked Nos. 51-60.

Last season Jeffery ranked sixth in the NFL among receivers with 1,421 yards, the second most in Bears history, and was 10th with 89 receptions, the sixth most ever by a Bears player.

Jeffery recorded the two most prolific receiving games in franchise history in 2013 with 249 yards against the Vikings and 218 yards versus the Saints. The previous single-game record of 214 yards by Harlon Hill had stood since 1954. In the process, Jeffery became one of only eight players in NFL history to produce two 200-yard games in the same season.

Jeffery made spectacular touchdown catches in three straight games late in the year against the Vikings, Cowboys and Browns. The TDs were voted the top three plays of the Bears season in a poll on ChicagoBears.com.

"You really saw his basketball background come into effect and come into play when he was out-jumping guys, using his length, using his jumping ability and his power," Bears center Roberto Garza said in the NFL Network feature. "Some of those catches he made were just incredible."

Fans voted Jeffery's 25-yard touchdown catch against the Cowboys the Bears' top play of the year. Leaping over two Dallas defenders in the right corner of the end zone, Jeffery plucked Josh McCown's pass out of the air and got both feet inbounds while falling backwards to the ground.

"I thought [McCown] just threw the ball out of bounds and all of a sudden it's a touchdown," Garza said. "That's just the kind of plays that Alshon had all year."