With veteran defensive lineman Jeremiah Ratliff suspended for the first three games of the season, Jarvis Jenkins intends to assume more of a leadership role with the Bears.
Jenkins, who has been working with the No. 1 defense at end, signed with the Bears in March after spending his first four NFL seasons with the Washington Redskins.
"You always want to have a guy that can set the tone and set the example on the defensive line because the defensive line is the heartbeat of the defense," Jenkins said.
"If I get those guys going and we get the defense humming and shooting missiles, they'll look back and say, 'who's leading on that defense, who's causing those guys to do that,' and that's something I'm going to take responsibility for."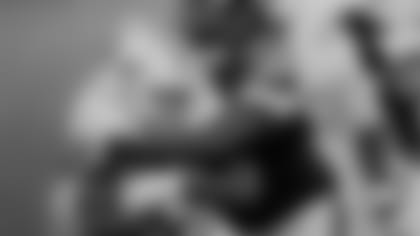 Jarvis Jenkins with the tackle on Dolphins running back Lamar Miller in Week 1 of preseason.
The Bears will face the Packers, Cardinals and Seahawks—three 2014 playoff teams that combined for a 35-13 record—without Ratliff. The four-time Pro Bowler was suspended last week for violating the NFL policy and program on abuses of substance stemming from a 2013 incident when he played for the Dallas Cowboys.
"We have to have guys step up, including myself," Jenkins said. "I'm one of the guys with the most experience on the d-line. We've got younger guys ... and we've got to bring those guys along. It's going to be key for me to set the mindset with these guys because we kind of took a step back. But that doesn't mean we're going to come out and play like we're down a man. We have to step up and go out there and play football."
Without Ratliff, the 27-year-old Jenkins is the elder statesman on a Bears defensive line that also includes Brandon Dunn (22), Ego Ferguson (23), Eddie Goldman (21), Will Sutton (23), Cornelius Washington (25) and Terry Williams (23).
"I know I'm not old in age, but I'm old in NFL experience," Jenkins said. "It's kind of weird, but that's part of the NFL.
"Things happen. Coach [John] Fox always teaches you're one play away from starting. You're one play from being a role model and leading by example, and this is one of those examples. We're going to get Rat back and we're going to be humming. But when he comes back we already want to have that momentum going forward so we can just coast into it."
Selected by the Redskins in the second round of the 2011 draft out of Clemson, Jenkins missed his entire rookie season with a torn ACL sustained in a preseason game.
After recovering from the injury, Jenkins appeared in 44 games with 33 starts the past three seasons, recording 76 tackles, two sacks and six tackles-for-loss.
It isn't easy becoming a leader with a new team, but Jenkins is comfortable in that role.
"It's kind of strange at first being with a new team," he said. "The more you work with these guys, the more you get in time with them, working together, running sprints together, you kind of get a respect for each other.
"It's kind of like being the older guy here on the defensive line. I'm working with these guys and I don't want them to look at me any different. I'm also motivating them. I've been in the league a couple of years and I know what to expect. But they've got to go out there and do it and I feel pretty good about that."