The following is the eighth of nine position reviews of the 2013 season.*
The Bears defense struggled in 2013, but Tim Jennings provided one of the few bright spots.
The veteran cornerback was voted to the Pro Bowl for the second straight season after leading the Bears with four interceptions—two of which he returned for touchdowns—and 13 pass breakups.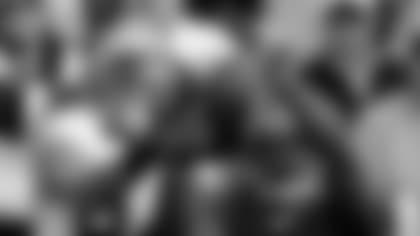 Tim Jennings breaks up a pass intended for Saints receiver Kenny Stills Oct. 6 at Soldier Field.
Jennings brought back an interception 44 yards for a touchdown in a 31-30 win over the Vikings Sept. 15 at Soldier Field. A month later against the Giants, he returned a pick 48 yards for a TD and preserved a 27-21 victory with a late interception.
In back-to-back wins late in the season, Jennings helped hold the Cowboys' Dez Bryant to two receptions for 12 yards and the Browns' Josh Gordon to three catches for 67 yards. Even in consecutive season-ending losses to the Eagles and Packers, Jennings still performed well.
"We had a couple tough games there at the end with Philadelphia and Green Bay and I watched Tim," general manager Phil Emery said after the season. "When they were trying to put receivers in the end zone on him, his ability to match and mirror an opponent, to shadow an opponent and keep the quarterback from throwing to the best receiver was very impressive to me."
After leading the NFL with nine interceptions during a breakout 2012 season, Jennings continued to excel in 2013. He helped overcome the loss of Charles Tillman, who missed the final seven games with a torn right triceps sustained in a Week 10 loss to the Lions.
"[Jennings] has been a big part of our defense since he's been here," Emery said. "He started the season out making plays. We had some injuries; we didn't have as good a rush. That forced everybody in the secondary to play a different style, and with the injury to Charles Tillman, that put a lot on Tim to handle the No. 1 receiver, and I thought he did well. He had an excellent season."
Since arriving in 2003 as a second-round draft pick, Tillman has established Bears records for most defensive touchdowns (9), interception return TDs (8) and interception return yards (675). His 36 interceptions are third most in team history behind Gary Fencik (38) and Richie Petitbon (37) and Tillman's 42 forced fumbles are the second most by any NFL player since he entered the league.
Zack Bowman did an adequate job filling in for Tillman. Appearing in all 16 games with seven starts, the six-year veteran registered 49 tackles and three interceptions, one of which he returned 43 yards for a TD in a crucial Week 15 win over the Browns in Cleveland.
Bears safeties Major Wright and Chris Conte didn't perform as well, struggling against both the run and pass. The biggest miscue came on a game-winning 48-yard touchdown pass from Aaron Rodgers to Randall Cobb with :38 left in a winner-take-all season finale against the Packers.
"I saw with our safety play, and I'm sure that Major and Chris would agree, that they did not play at the ability and capability level throughout the season that we would have expected," coach Marc Trestman said after the season. "I think that they would have wanted more out of themselves.
"Early on in the season I saw some long balls completed. I think we could have done a better job at that. And I thought our tackling was good but could have been much better earlier in the season, and it certainly wasn't where we wanted it to be at the end of the season."