In their short time together, Bears cornerback Tim Jennings has quickly become a big fan of first-year defensive coordinator Vic Fangio.
Fangio is entering his 29th season as an NFL assistant and 16th as a defensive coordinator following stints with the Panthers (1995-98), Texans (2002-05) and 49ers (2011-14).
"He puts guys in positions to make plays," Jennings said. "We're looking forward to him putting us in the right position. He's a very smart coach. The team that we play is going to be different every week and he's going to be able to strategize. He's a very smart man as far as putting guys in position to make plays."
In each of Fangio's four seasons in San Francisco, the 49ers defense ranked in the top 10 in the league in points and yards. Under his tutelage, five players were named first-team All-Pro.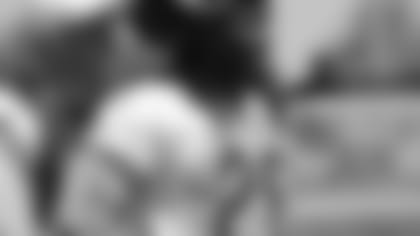 Tim Jennings at training camp practice.
"It gives us confidence that he knows what he's doing," Jennings said. "He knows the league. He knows this game well. He's seen it all. He's seen all types of offense. He's seen all types of defense. So I'm real confident in what he's trying to do."
Jennings not only enjoys playing for Fangio but likes the atmosphere that John Fox has created since he was hired as Bears head coach in January.
"It's all positive," Jennings said. "The coaching staff is relaxed, bringing positive energy to the locker room and positive energy to the team, so we all feed off of that.
"It's been fun in the whole transition. Coach is being smart about getting guys prepared with the older guys and the young guys. It's been real helpful. A lot of guys are ... taking that whole positive energy and getting back to having fun playing football."
Jennings hopes to have fun again on the field this season but isn't sure where he'll be playing. He could contribute at cornerback and/or nickel back. He opened last season sliding inside from cornerback to nickel in passing situations so the Bears could get rookie cornerback Kyle Fuller on the field. But Jennings played cornerback exclusively after Charles Tillman suffered a season-ending injury in a Week 2 win over the 49ers.
"It's just a different skill set," Fox said. "Some of the same carries over from both spots because it is coverage. But you're replacing a linebacker basically when you're going in the middle of the defense so mentally you have to be pretty sharp and have that skill set. On the outside you're pretty much isolated. We'll see how it goes from that standpoint and look at both."
A two-time Pro Bowler at cornerback, Jennings welcomes the opportunity to compete for the nickel position in training camp. After leading the NFL with nine interceptions in 2012 and topping the Bears with four in 2013, he did not pick off a pass in 2014.
"With the defense we're running now, it fits well to what I'm trying to do, what they'll want me to do," Jennings said. "It's kind of really playing the whole field. It'll be helpful for me because I know where to help at now. I have a lot of guys on the side help. I know how to leverage. With my knowledge and my experience, it should fit well."