During an appearance on NFL Network's "NFL AM," cornerback Tim Jennings discussed a key attribute the Bears have added on defense and where teammate Brandon Marshall ranks among NFL players.
After an uncharacteristically poor season on defense in 2013, Bears general manager Phil Emery revamped the unit in free agency and the draft, concentrating primarily on the line and the secondary.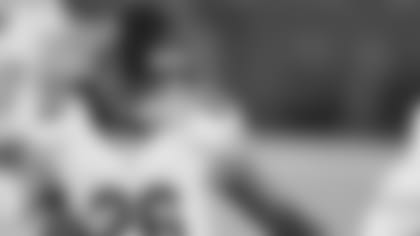 Tim Jennings' 13 interceptions the last two seasons are second in the NFL to Richard Sherman's 16.
With the Bears having completed six of 10 OTA practices, Jennings sees a defense that is not only more talented but tougher than last year's unit.
"Right now we look great," Jennings said. "We look excellent on paper. We're trying to put everything together right now as far as plugging everybody in the right positions.
"Everybody knows what Chicago football, Chicago defense is about, and we're tougher. A lot of guys have a lot of fire, a lot of passion about this game, I think if we plug in the right guys that we need to we'll take this defense back to where Chicago Bears football used to be."
The Bears were active in free agency, signing ends Jared Allen, Lamarr Houston, Willie Young and Israel Idonije as well as safeties Ryan Mundy, M.D. Jennings and Danny McCray. They followed in the draft by spending their first three and four of their first five picks on defense in cornerback Kyle Fuller, defensive tackles Ego Ferguson and Will Sutton, and safety Brock Vereen.
On the other side of the ball, Marshall leads an explosive offense that helped the Bears rank second in the NFL in scoring and set team records for total yards, passing yards, passing touchdowns, passer rating and first downs.
According to Jennings, Marshall is among the top-10 players in the NFL.
"I see the body of work that he puts in every day," Jennings said. "He comes to work and the way he practices, the way he plays, I admire that in a competitor, in a leader and a guy that's making big bucks. I think he's working for each and every dime the NFL and the team has given him and I would never degrade him in any way because Brandon comes to work every day."