No Bears player is performing any better so far this season than cornerback Tim Jennings, who already has established a career high with three interceptions in the first two games.
Jennings worked diligently on improving his ball skills during offseason workouts and training camp after failing to take advantage of some opportunities to pick off passes last season.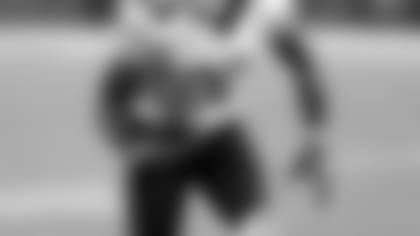 Cornerback Tim Jennings set up the Bears' only touchdown with a 20-yard interception return last Thursday night in Green Bay.
"Right now he's playing very good football and we're excited about that," said defensive backs coach Jon Hoke. "He's worked his butt off to get himself in this position, starting last offseason.

"He's worked at it and he deserves all the credit because he's the one who's done all the work and it's paying off for him. Hopefully that can continue."

Jennings entered Week 3 leading the NFL in interceptions, but is now tied with Michael Boley after the Giants linebacker picked off his third pass Thursday night in a win over the Panthers.

Jennings has also excelled in other aspects of the game. Despite his lack of size, the 5-8, 185-pounder has proven to be a physical tackler, dropping Colts running back Donald Brown and Packers tight end Jermichael Finley immediately on 1-yard receptions in the Bears' first two games.

"He's going to get to the football," said middle linebacker Brian Urlacher. "The thing about him is he tackles. He'll put his head in there. He's not a big guy, but he will definitely bring you down."

Line change: Chilo Rachal, who has supplanted Chris Spencer as the Bears' starting left guard this week, wasn't very far behind Spencer on the depth chart entering the season.

"We felt like coming out of training camp it was almost dead even and I think I said, 'If it's not broke, don't fix it,'" said offensive coordinator Mike Tice. "We were actually playing pretty good ball coming out of camp. We went a number of weeks with hardly any sacks. We knew we had to run the ball better, but if it wasn't broke, don't fix it. Now it's broke, so we'll make a change."

After playing right guard during four seasons with the San Francisco 49ers, Rachal revealed that lining up on the left side hasn't required much of an adjustment.

"It's the same," Rachal said. "I'm still a guard. It's just footwork and different patterns. I like it. I'm naturally left-handed. It's my first time playing left guard, but I feel pretty comfortable doing it."

More vocal: If the Rams try to take receiver Brandon Marshall out of Sunday's game with constant double coverage like the Packers did last Thursday night, the Bears will try to take advantage of favorable match-ups elsewhere on the field, something they failed to do in Green Bay.

"We need to do a better job than we did, but I'm certainly not going to give you our game plan," Tice told a reporter. "We need to do a better job than we did. I need to do a better job. It starts with me. I need to do a better job and the players need to do a better job."

Marshall, who was limited to two receptions for 24 yards against the Packers, said that he wants to be "more of a leader on the sideline in those games, when I'm not involved as much because of what the defenses are doing."

"I want to be more of a vocal guy," Marshall said. "The thing I learned most on Thursday night was even when I'm not getting the ball I can definitely be a guy that's encouraging others and keeping the spirit up on that side of the ball."

No nightmares: Linebacker Lance Briggs was asked if the sure interception he dropped late in the first half against the Packers is disrupting his sleep at night.

"No, I don't have any nightmares about the pass," Briggs said. "It was a layup pass. I just think that sometimes when a pass is coming at you and it's right where you want it to be, you think it's too good to be true. That's something that I can't let happen anymore. I shamed myself."