After delivering a powerful jab that staggered the Giants early, Bears cornerback Tim Jennings finished them off with a devastating knockout punch Thursday night at Soldier Field.
Jennings intercepted an errant Eli Manning pass and returned it 48 yards for a touchdown to give the Bears a 7-0 lead just over five minutes into the game. Manning threw the ball to the right flat, but receiver Rueben Randle continued to run downfield on the play.
"I had a good read on it," Jennings said. "I had a good break on it. I don't know what the receiver did because I was just playing the quarterback the whole time. He threw it and I had a good bead on it and I was able to get my hands on it with nobody in front of me."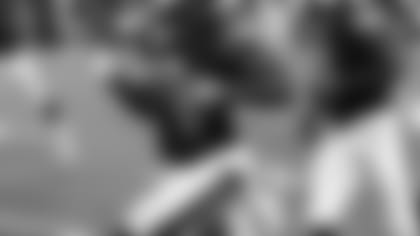 Jennings later preserved the victory by picking off a high Manning pass that deflected off the hands of tight end Brandon Myers with 1:54 left in the game. Three plays earlier, Jennings had broken up a pass intended for tight end Larry Donnell on a similar route.
"They went back to a play that they ran a couple plays earlier, the one I actually got my hands on," Jennings said. "I guess they saw something. We were in cover-three and I was there to make the tackle. But I saw the ball tipped and I was able to get my hands on it."
Jennings' touchdown was his second of the season, the third of his career and the fourth by the Bears defense this year. Jennings' previous TDs came on interception returns of 25 yards last Oct. 28 against the Panthers and 44 yards in Week 2 of this season versus the Vikings.
When scoring a defensive TD, the Bears have now won 10 straight games and 24 of 26 since 2006.
Jennings helped overcome the absence of fellow cornerback Charles Tillman, who sat out Thursday night's game with a knee injury, snapping his streak of 53 straight starts.
Zack Bowman, who started in place of Tillman, intercepted Manning on the game's opening possession, returning it 24 yards to the Giants' 12.
"Everybody had to step up and do their job," Jennings said. "Zack came in and played great, and that's all you can ask for from each and every guy. Our safeties continue to play great and I was able to make a couple plays on the ball. But hopefully we get Peanut back as soon as possible."
Tillman has been bothered by a knee injury since the second game of the season. The past few weeks he has been held out of practice Wednesday and Thursday before returning in limited fashion on Friday and playing on Sunday.
"If he had had through Sunday, I think he would have played," said coach Marc Trestman. "He worked extremely hard. He was in the building at six o'clock in the morning. He didn't leave the training room. He was doing everything he could to get ready.
"I have a lot of respect for the work he put in in the training room to try to get himself ready tonight. Fortunately, we found a way to win without him and it will be great to have him back next week."