Tim Jennings continued his dream season Sunday, intercepting two passes and returning one for a game-changing touchdown in a stunning 23-22 comeback win over the Carolina Panthers.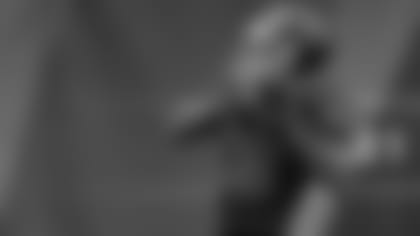 Tim Jennings celebrates after returning an interception 25 yards for a TD in Sunday's win over the Panthers.
After making a diving interception of a Cam Newton pass late in the first half, Jennings picked off Newton's throw intended for Steve Smith and brought it back 25 yards down the right sideline for his first NFL touchdown, giving the Bears a 20-19 lead with 6:44 left in the game.
"The big play by Tim … got everyone going," said coach Lovie Smith. "I can't say we didn't have life before, but things just weren't going our way. You need someone to come up and make a play, and he did."
During the Bears' five-game winning streak, the defense has scored six touchdowns and allowed only four TDs. Before Sunday, linebacker Lance Briggs and cornerback Charles Tillman had two interception return TDs and safety Major Wright had one.
"It felt great," Jennings said. "I was able to have the opportunity to make a play on the ball. The receiver slipped on the play and I was in a good position to catch the ball, and there wasn't anything but green and the end zone right there. Finally I got in the end zone. Everybody else was scoring and I felt left out and I was able to get in today."
Jennings enabled the Bears to set a franchise single-season record with six interception return TDs.
"It happens a lot around here," said quarterback Jay Cutler. "I think we are getting a little bit used to it. We knew something was going to happen and those guys were going to make some play for us and they did. It always comes at big times in games it seems like. They make the big plays and their ability to create turnovers is fun to watch."
Just as Tillman shadowed Lions star receiver Calvin Johnson last Monday night, Jennings was responsible for following Smith all over the field Sunday. Smith, a long-time Bear killer, had seven receptions for 118 yards but did not get into the end zone.
"He's a Pro Bowl receiver," Jennings said. "He's been doing this for a while. He's going to make some plays. I had to step up to the challenge and minimize his ability."
After recording four interceptions in the first three games this season, Jennings went three straight contests without a pick before ending the drought Sunday.
"When you're playing a guy like Steve, you're going to win some, lose some, but in the end you have to keep playing," Tillman said. "You saw what [Jennings] did. He kept playing. He played through adversity. Big-time players make big plays and he came through when he needed to."