Cornerback Tim Jennings continued to display his ball skills Sunday night at Soldier Field, intercepting two Matt Schaub passes in the Bears' 13-6 loss to the Houston Texans.
Jennings now leads the NFL with eight interceptions, the most by a Bears player since Nathan Vasher had eight in 2005. Jennings is the first Bears player since at least 1960 with three multi-interception games in the same season and the first NFL player since the Ravens' Ed Reed in 2010.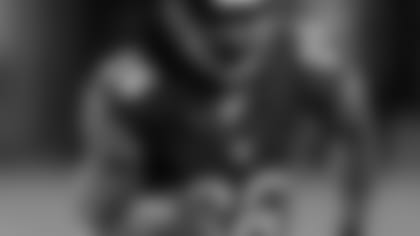 After tallying two picks in the first half Sunday, Tim Jennings leads the NFL with eight interceptions this season.
The Bears lead the NFL with 30 takeaways this season (19 interceptions and 11 fumble recoveries) and 296 since Lovie Smith became coach in 2004 (176 interceptions and 120 fumble recoveries).
Catch this: With eight receptions for 107 yards, Brandon Marshall topped 100 yards for the fifth time in nine games this season. The three-time Pro Bowler ranks second in the NFL with 67 receptions and third in the league with 904 yards.
Good as Gould: With his 51-yard field goal in the second quarter Sunday night, Robbie Gould has now made 10 straight attempts from 50 yards and beyond dating back to 2010.
It's the second longest streak in NFL history and one away from the league record of 11 held by Tony Zendejas. Gould is 13 of 17 from 50 yards and beyond, a 76.5 percent success rate that ranks third among kickers with at least 10 attempts.
Roster notes: Rookie receiver Alshon Jeffery missed his third straight game with a hand injury. Defensive tackle Matt Toeaina (calf) also sat out. Other Bears inactives were receiver Dane Sanzenbacher, offensive lineman Edwin Williams, tight end Brody Eldridge, defensive tackle Amobi Okoye and defensive end Cheta Ozougwu.
The Texans played without tight end Owen Daniels (back), nose tackle Shaun Cody (ribs) and backup running back Ben Tate (hamstring). Other inactives were cornerback Roc Carmichael, safety Troy Nolan, and guards Cody White and Brandon Brooks. Daniels has caught 37 passes for 478 yards and a team-leading five touchdowns this season.
For openers: The Bears defense still has not allowed a touchdown in the first quarter this season. The unit permitted its second field goal in the opening period Sunday night. The Chicago offense has allowed an interception return for a touchdown and a safety in the first 15 minutes this season.