After watching Bears cornerback Tim Jennings work his magic once again in Sunday's 23-6 win over the St. Louis Rams, middle linebacker Brian Urlacher had lofty praise for his teammate.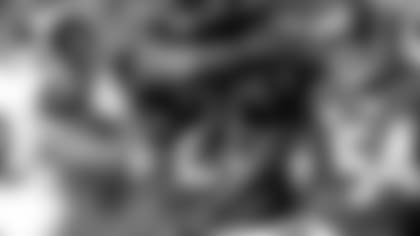 Tim Jennings has tallied four interceptions in three games this season.
"Unbelievable every game," Urlacher said after Jennings intercepted one Sam Bradford pass and deflected another that Major Wright picked off and returned 45 yards for a touchdown. "He's got to be playing better than anybody in the NFL right now."
It's tough to argue. Jennings now has four interceptions and has had a hand, literally, in the Bears' other two this year. He also deflected a pass that Chris Conte picked off in the season opener.
"Tim Jennings has been outstanding," said coach Lovie Smith. "We talked about him in OTAs, training camp, and preseason, and he's making plays."
Dating back to last year's season finale, Jennings has become the first Bears player to register an interception in four straight games since Dave Duerson in 1986.
"I do have to tip my hat to the coaching staff for putting me in the right positions and believing in me," Jennings said. "I'm just able to go out there and have fun, feel good and I'm flying around. I felt good with the match-up and I was able to go out there and get another one."
Jennings worked on his ball skills throughout the offseason, and that work is paying off big-time.
"Tim made a commitment to improve his game," Smith said. "Last year he had a lot of opportunities with his hands on balls and he didn't make the play. You see him working on that trade every day. I don't know exactly how it happens and why a player in his career goes through it, but it's fun to watch it and this is how it's supposed to happen."
Pick six: Wright scored the second defensive touchdown of his career and the first by the Bears this season. He returned an interception 24 yards for a score last Nov. 13 against the Lions.
"That's the first goal we have defensively is to score, so to see Major Wright get into the end zone was big for that," Smith said.
Being in the right place at the right time was no accident for Wright.
"You've got to always suspect something is going to happen," he said. "You can't ever be lackadaisical and not run to the ball. Our coaches definitely preach on that."
Not me: Defensive end Julius Peppers didn't think he deserved a 15-yard penalty assessed against him late in the third quarter. On third-and-24, Rams running back Daryl Richardson took a handoff and was tackled by Lance Briggs after a four-yard gain.
Richardson popped up and started to run as if the play were still alive. Peppers grabbed the rookie and shoved him backwards, drawing a flag that gave the Rams an automatic first down. Fortunately, the penalty didn't hurt the Bears, who forced St. Louis to punt three plays later.
"He got back up and tried to run," Peppers said. "I wasn't sure if he was down. I didn't hear the whistle. I wasn't sure he was down and still tried to get up to run, so I finished the play. I was surprised [by the flag]. But it's one play. It didn't affect the game."
News and notes: Rookie fullback Evan Rodriguez exited in the first half with a knee injury. … With a 54-yard field goal, Robbie Gould has now made his last nine attempts of 50-plus yards dating back to 2010. He has made all six of his field goal tries so far this season. … The Bears have not allowed a touchdown in their last three games against the Rams, previously beating St. Louis 27-3 in 2008 and 17-9 in 2009. … Brandon Marshall caught five passes for a game-high 71 yards and Alshon Jeffery added five receptions for 45 yards. … After catching 15 passes last Sunday in a win over the Redskins, Rams receiver Danny Amendola was limited to five receptions for 66 yards.