The shortest player on the Bears roster made a big impact in Tuesday's training camp practice.
Cornerback Tim Jennings![](/team/roster/tim-jennings/1ad6d299-60f2-4e45-9f38-de682e5d92fc/ "Tim Jennings"), who stands just 5-8, flashed in front of 6-4 Pro Bowl receiver Brandon Marshall to intercept a Jay Cutler pass in a 7-on-7 drill and made other excellent plays on the ball.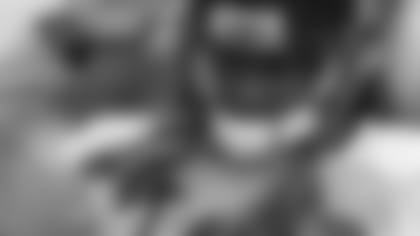 Bears cornerback Tim Jennings showed his ball skills in Tuesday's training camp practice.
"I like what Tim Jennings was able to do today," said coach Lovie Smith. "He's not the tallest corner in the league, but he plays big, he plays tall, he's tough and he's got good hands."
In addition to the pick, Jennings also dove to knock away a slant pass intended for Marshall in 11-on-11 work and broke up another throw to Marshall in the end zone in a two-minute drill.
"As a cornerback, it's going to come down to a one-on-one situation eventually where you have to make the play," Smith said. "Tim having a chance to go against Brandon Marshall, Devin [Hester], Alshon Jeffery, those guys, is making him better, and he made some plays today."
In a live goal-line drill Tuesday, Cutler rifled a perfect back-shoulder touchdown pass to Marshall, running back Kahlil Bell soared over the line into the end zone despite a mid-air hit by safety Chris Conte, and defensive tackle Stephen Paea knifed into the backfield to blow up a running play.
Cutler showed his ad-lib ability in an 11-on-11 drill when he sidestepped a pass rusher, stepped up in the pocket and lofted a perfect pass down the right sideline to running back Matt Forte, who hauled in the ball without breaking stride despite tight coverage by linebacker Lance Briggs.
"A lot of plays happen off tempo and off rhythm in the NFL," Cutler said. "It's just part of the business. Very rarely are you going to be able to take three, five or seven [step drops] and deliver the ball. You're going to have to take a little sidestep left, right, up, back, and find holes in the defense. That's part of the game."
Cornerback Charles Tillman also intercepted Cutler, who told reporters that he's pleased with the progress the offense is making, but felt that the unit experienced "a little lull" Tuesday.
"A day off like that kind of happens," Cutler said. "But guys have done a great job running the system and coming out here and trying to execute it."
Asked about recapturing the success he and Marshall enjoyed in Denver, Cutler said: "We're clicking on stuff. Some other things we have to work through and get back some chemistry. But we're definitely heading in the right direction."
Defensive tackle Brian Price, who was acquired in a trade with the Buccaneers last Thursday, practiced Tuesday for the first time. In accordance with the CBA, he was required to sit out three days of workouts in pads.
"We wanted to get Brian into the mix just to see how it feels to be a Chicago Bear practicing," Smith said. "So we made that step. He set the bar today, and we'll hopefully make progress from here." [ ](http://www.phoenix.edu/campus-locations/il.html?utmsource=Story&utmmedium=instory&utmcampaign=300x100)
Other noteworthy plays in Tuesday's practice included quarterback Jason Campbell leading running back Armando Allen perfectly deep down the left sideline for a long completion, rookie cornerback Isaiah Frey breaking up a pass intended for Devin Thomas after not getting fooled by a double move, and tight end Kellen Davis catching a touchdown pass from Cutler with no time remaining in a two-minute drill.