Bears cornerback Tim Jennings on Thursday was named NFC Defensive Player of the Month for his performance in the first four games of the season.
Jennings has already set a career-high with four interceptions. He also has recorded 18 tackles and six pass breakups, two of which resulted in interceptions by Bears teammates.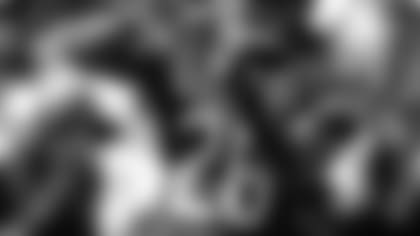 Bears cornerback Tim Jennings leads the NFL with a career-high four interceptions.
"It's an honor to be named defensive player of the month," Jennings said. "I take that as an honor, but I've got to keep working and try to get another one next month."

After re-signing with the Bears in March, Jennings worked diligently on enhancing his ball skills throughout offseason workouts and training camp, and the results speak for themselves. He has had a hand, literally, in six of the team's league-leading 14 takeaways.

"He's been playing outstanding football, and to be acknowledged for his play, it's well deserved," said coach Lovie Smith. "He's been playing as well as any of the corners out there. He has four interceptions, but he's played a part in a couple of others for us."

Challenged by his coaches to finish more plays, Jennings has responded extremely well.

"I always felt like I was a good player," he said. " I'm just making more plays this year. That's the key and that's one of the focuses I had coming into this year. I never doubted my athletic ability. I just wanted to work on making plays and making the best of opportunities."

Jennings has been an integral part of a Bears defense that ranks No. 1 in the NFL in the Aikman Ratings, which include seven different key statistical categories.

"He's done a heck of a job catching the ball, but not just that," said defensive coordinator Rod Marinelli. "With the tackling and breaking up passes, he's had a heck of a month."

After recording four interceptions in 53 games in four seasons with the Colts from 2006-09, Jennings has picked off seven passes in 36 games in two-plus seasons with the Bears.

"He's improved in all areas," Smith said. "Coming here, he was a willing guy. I'm talking about as far as tackling. He just wasn't a cover corner coming in here. He was willing to tackle, but he still hadn't made a lot of plays on the ball. But he's corrected those things and his best football's ahead of him."

This is Jennings' first player of the month award. He is the third Bears player to be honored in the last four months of the award. Devin Hester was named special teams player of the month last October, while Julius Peppers was tabbed defensive player of the month last November.

"It's well-deserved," said middle linebacker Brian Urlacher. "You could give it to a couple guys on our defense. Henry [Melton] played really well last month; Lance [Briggs] obviously. But it's great to see [Jennings] get it."