It's been a year since Johnny Knox sustained a serious back injury in a loss to the Seahawks, but the Bears receiver still hasn't watched the play that put his football career on hold.
"I'm not scared to see it or anything like that," Knox said Friday at Halas Hall. "It's just behind me. That's something I'll probably look at the day I retire."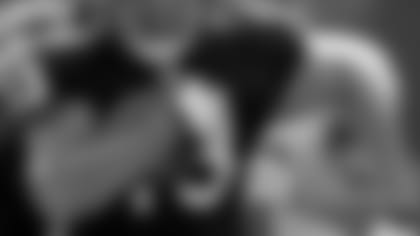 As a Bears rookie in 2009, Johnny Knox was voted to the Pro Bowl as a return specialist.
Life couldn't have been better for Knox when he took the field last Dec. 18 against Seattle. His wife, SanDerriqua, had just given birth to the couple's second child five days earlier, and the speedy receiver was looking forward to helping her take care of Johnny Knox III.

"My plan was to help pick up some of the slack and wake up in the middle of the night with the baby because she wasn't going to be able to move around much," Knox said. "But a week later everything changed when I got hurt."

Everything changed when Knox fumbled on a 17-yard reception over the middle. Turning back toward the line of scrimmage to try to retrieve the ball, he was drilled by Anthony Hargrove, a 6-3, 272-pound defensive end who was charging downfield full speed.

Knox's body bent back grotesquely and he remained down on the field for nearly 10 minutes before being removed on a backboard and taken to the hospital, where he underwent surgery.

"It was a freak play," Knox said Friday. "You'll probably never see that happen to anybody again. I've tried not to ask myself why it happened to me. You always hear that everything happens for a reason and I know things will work out for the best."

Just as Knox refuses to look back, he also isn't peering too far into the future. Rather than dwelling on whether he'll ever be able to resume his NFL career, he's focusing only on the present.

"Playing again is the ultimate goal, but right now I've got short-term goals," Knox said. "I'm just taking it one day at a time. If I do an exercise on Monday and I come back and do it on Wednesday, I want to improve on that exercise that day. I'm just setting small goals now."

Knox was selected by the Bears in the fifth round of the 2009 draft out of Abilene Christian. He was voted to the Pro Bowl as a rookie on special teams, ranking second in the NFL with a 29.0-yard average including a 102-yard touchdown on 32 kickoff returns.

In 2010, Knox topped the Bears with 960 receiving yards and tied for the team lead with 51 receptions and five touchdown catches.

Last season he led the Bears again with 727 receiving yards despite missing the final two games following his injury, and he ranked second in the NFL with an average of 19.6 yards per reception.

The past year hasn't been easy for Knox, but he continues to persevere.

"The toughest thing has been coming to rehab every day knowing that I can't go out there and practice or play in games and help my team win," Knox said. "But I've had a lot of support from my teammates, friends and family. I know I've got to look at the big picture, and that's my health.

"There have been days where I felt down, and I knew there were going to be days like that. But there have been more positive days than down downs. I'm still pushing forward and I'm not looking back. No one has told me that I won't play again. That's in my hands and God's hands."