Jordan Howard never played in an all-star game in high school or college. But that will change in his first year in the NFL.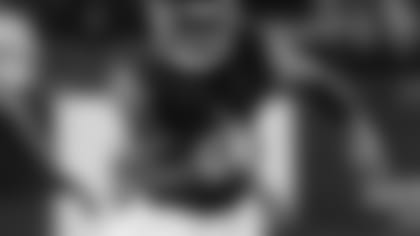 Jordan Howard is the first Bears rookie running back voted to the Pro Bowl since Gale Sayers.

The Bears running back will cap his breakout rookie season by suiting up for the NFC squad in the Pro Bowl, the NFL announced Wednesday. Howard will replace Cardinals running back David Johnson, who sustained a knee injury in Arizona's season finale.
"It's very exciting for me in my first year to make the Pro Bowl as a rookie," Howard said during a conference call. "I never expected anything like this, so it's definitely a blessing."
Selected by the Bears in the fifth round of the draft out of Indiana, Howard set two team rookie rushing records with 1,313 yards and seven 100-yard games. He finished second in the NFL in rushing behind Cowboys rookie Ezekiel Elliott, who ran for 1,631 yards on 322 carries.
Howard opened the season third on the depth chart and didn't make his first start until Week 4 when both Jeremy Langford and Ka'Deem Carey were injured. Howard suited up but did not play in the season opener against the Texans in Houston.
"After the first game, after being on the bench and not getting in the game, I was thinking that I was going to go and do anything I could to get on the field, whether that was special teams or whatever," Howard said. "I was just going to do my hardest to get on the field. It was kind of tough, but it definitely motivated me to work hard."
Howard is the fourth player in Bears history to rush for at least 1,300 yards in a season. Walter Payton achieved the feat nine times during his illustrious career from 1975-87, while Thomas Jones (1,335 in 2005) and Matt Forte (1,339 in 2013) each did it once.
Howard closed the year with a flourish, earning NFL offensive rookie of the month honors for December/January after rushing for 547 yards and four touchdowns in five games. During that span, he averaged 5.3 yards per attempt and had three 100-yard games.
Howard becomes the Bears' lone representative in the Pro Bowl. In the process, he's the franchise's first rookie to be selected since guard Kyle Long in 2013 and the first Bears rookie running back since Hall of Famer Gale Sayers in 1965.  
Howard was lightly recruited out of Gardendale High School just outside Birmingham, Ala. But he starred at Alabama-Birmingham, rushing for 2,468 yards and 15 touchdowns in two seasons before UAB dropped its football program. Howard transferred to Indiana and rushed for 1,213 yards and nine TDs in 2015 despite missing four games due to injuries.
Determined to enter the NFL Draft a year early, Howard asked the league's advisory board for their recommendation.
"They told me to stay in school, but I had my mind made up that I was ready to move onto the next level," Howard said. "I felt like I had proved everything I could at the collegiate level. I definitely felt that I was ready to test myself with a new challenge."
Howard passed that test with flying colors as a Bears rookie, earning his first trip to an all-star game of any kind.
"I haven't played in any all-star or showcase games," he said. "After not getting selected for the all-star game in high school, I just put my head down and kept working. I guess my hard work is paying off now, so I'm just very grateful for that."