Josh McCown will focus on the fundamentals necessary to play the quarterback position Friday in North Carolina just as he has done the past two summers. But that's where the similarity ends.
After working as an assistant coach at Marvin Ridge High School in Waxhaw, N.C., in 2011 and 2012, McCown will return to the Tar Heel State to quarterback the Bears' second-team offense in their preseason opener against the Carolina Panthers.
"It'll be neat," McCown said. "I'm excited about that. Some of the kids that I've coached are coming to the game, and that's cool. It's definitely special [to play for the Bears]. I count my blessings every day to come out here and practice and to be part of this team."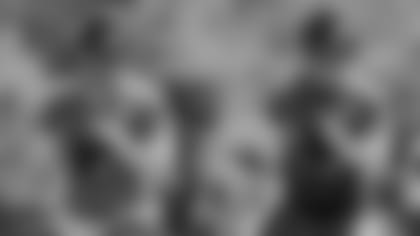 The Bears are confident that Josh McCown (right) will be a capable backup to starter Jay Cutler.
Each of the past two seasons, McCown signed with the Bears in November after starter Jay Cutler suffered an injury. On both occasions, McCown left North Carolina for Chicago shortly after the Marvin Ridge football team he helped coach had lost in the state playoffs.

Prior to joining the Bears, McCown started 31 of 47 games played in eight NFL seasons with the Cardinals (2002-05), Lions (2006), Raiders (2007) and Panthers (2009), completing 57.7 percent of his passes for 6,584 yards with 35 touchdowns, 40 interceptions and a 71.3 passer rating.

McCown is grateful to Marvin Ridge-which is located just over 20 miles south of Charlotte-for allowing him to be part of their football program after his NFL career had stalled.

"It's special to me, no doubt about it, going back to Charlotte and being able to see some of those kids," McCown said. "I'm thankful to that high school for letting me be a part of their lives in a different and difficult time in my life."

McCown has excelled in limited opportunities with the Bears. He appeared in three games with two starts late in the 2011 season, connecting on 35 of 55 passes for 414 yards with two touchdowns, four interceptions and a 68.3 passer rating.

Last year McCown played the entire preseason finale, completing 20 of 29 passes for 157 yards with two TDs, one interception and a 90.7 passer rating in a 28-20 win in Cleveland.

McCown was released during final cuts, but rejoined the Bears last Nov. 13, two days after Cutler had sustained a concussion in a loss to the Texans. While McCown did not appear in a game, he re-signed with the team during the offseason to serve as Cutler's primary backup.

First-year coach Marc Trestman has been impressed with McCown's performance in training camp and is "very confident" that the 34-year-old is capable of stepping in and playing well if needed.

"He's got a high skill-set, he's very important to our locker room, in a lot of different ways, as a complete player," Trestman said. "He knows this offense in terms of where we are right now. We keep stats on everything we're doing, and for the most part he's been very efficient."

McCown likely will get expanded playing time Friday. He's expected to replace Cutler sometime in the first quarter and play into the second half before yielding to third-stringer Matt Blanchard.

"I just want to go out and play good football, execute, physically play the game the way you're supposed to and make the right reads," McCown said.

"For some guys, this is their first time playing an NFL game, so as a quarterback there's a lot on your plate because you want to make sure everybody's in the right spot and doing what they're supposed to do. We want that to go off without a hitch. You want that to be smooth and in turn personally just go out and play the game the right way."