Bears backup quarterback Josh McCown understands why the head-to-head match-ups between Super Bowl-winning passers Peyton and Eli Manning garner more attention.
But that doesn't diminish McCown's excitement as he prepares for Sunday's game against the Saints and his younger brother Luke, who serves in the same position for New Orleans.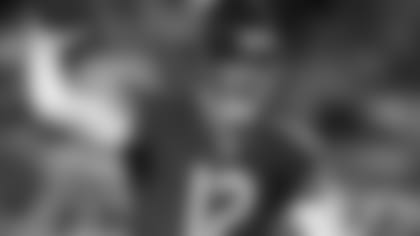 Veteran Josh McCown is in his third season as a backup quarterback with the Bears.
"We're not [starting]," McCown said. "It's not the Manning Bowl. But it's cool for us. It's special for us and we're very thankful to be in the situations that we're in.

"We look at it as a tremendous blessing. The odds of a young man growing up and going to the NFL are hard enough. But to have two from the same house is really special for us. The times that our paths do cross and we play each other during the season, it's neat."

Josh and Luke grew up in Jacksonville, Texas, along with an older brother, Randy, who played quarterback at Texas A&M from 1996-99. Josh spent three seasons at SMU before transferring to Sam Houston State as a senior, while Luke played at Louisiana Tech.

Josh, 34, was selected in the third round of the 2002 draft by the Arizona Cardinals. He has appeared in 50 NFL games with 33 starts for the Cardinals (2002-05), Lions (2006), Raiders (2007), Panthers (2008-09) and Bears (2011-13), completing 58.0 percent of his passes for 6,998 yards with 37 touchdowns, 44 interceptions and a 71.2 passer rating.

Luke, 32, was chosen in the fourth round of the 2004 draft by the Cleveland Browns. He has played in 26 games with nine starts for the Browns (2004), Buccaneers (2007-08), Jaguars (2009-2011), Falcons (2012) and Saints (2013), completing 58.2 percent of his passes for 2,035 yards with nine TDs, 14 interceptions and a 68.5 rating.

The McCown brothers have crossed paths only twice in the NFL, with both meetings coming in 2008 when Josh backed up Jake Delhomme with the Panthers and Luke played behind Jeff Garcia with the Buccaneers. The teams split the two games, but neither McCown played in either contest.

Josh and Luke will remain spectators Sunday at Soldier Field barring an injury to Bears starter Jay Cutler or Saints counterpart Drew Brees. But both McCowns understand their backup roles.

The two brothers remain very close and frequently talk football on the telephone, though that won't necessarily be the case in the days leading up to "McCown Bowl III."

"We've already talked a couple times this week, but they've been very cryptic conversations," Josh said. "It's fun because we run similar offenses and that's the first time in our careers that that's happened, so we can talk about what they're doing and what we're doing, and compare notes.

"Like I said, this week that conversation is shut down. But I'm always asking how Drew's doing and he's asking the same thing about Jay. We're always talking and comparing notes. We really like working with the guys that we're with, so it's fun. It's a neat deal. We're really thankful to be in our situations."