SAN FRANCISCO — Cornerback Isaiah Frey shook his head as he walked off the field Monday night after watching former college teammate Colin Kaepernick shred the Bears defense.
Frey, a member of the Bears practice squad, saw Kaepernick dominate just like he did at Nevada-albeit on a much bigger stage. Making his first NFL start, the 2011 second-round pick led the 49ers to a convincing 32-7 win by completing 16 of 23 passes for 243 yards and two touchdowns.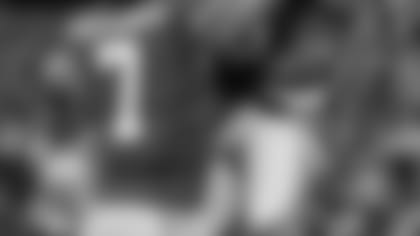 Colin Kaepernick celebrates with Vernon Davis after connecting on a touchdown pass in Monday night's 32-7 win over the Bears.
With starters Jay Cutler and Alex Smith unable to play due to concussions, Kaepernick win the battle of backup quarterbacks in a rout, posting a 133.1 passer rating that was 80.4 points higher than Jason Campbell's 52.7. While Campbell didn't complete a pass of more than 18 yards, Kaepernick threw for gains of 57, 37, 32, 23, 22 and 20 yards.

"He had a heck of a night against us, so right now we're pretty impressed with him," said coach Lovie Smith. "His first start, to play like that on a national stage, normally it doesn't work like that. We knew he had talent. We just wish we would have played better against him."

Alex Smith practiced on a limited basis throughout the week leading up to the game and wasn't ruled out until Monday morning after being evaluated by 49ers doctors.

"We prepared for either guy," said Lovie Smith. "With concussions nowadays, you assume guys aren't going to be able to come back right away. We had a guy with a concussion that wasn't able to play. That was our mindset. We knew we had a chance of playing [Kaepernick], but it's not like we were going to change up our game plan. He was running their offense, so whether it's him or Alex Smith I think we would have seen the same plays."

Bagging a record: Niners linebacker Aldon Smith recorded 5.5 sacks, the most in a game by a Bears opponent since sacks became an official statistic in 1982.

Smith now leads the NFL with 15 sacks this season.

"He's a good football player," said coach Lovie Smith. "It's not the first night he's played well. We thought we would be able to block him a little bit better."

Power outage: After scoring four touchdowns in a 51-20 rout of the Titans Nov. 4, the Bears offense has produced just one TD in back-to-back losses to the Texans and 49ers.

Roster notes: In addition to Cutler, defensive end Shea McClellin (concussion) and defensive tackle Matt Toeaina (calf) sat out with injuries. Other inactives were receiver Dane Sanzenbacher, defensive back D.J. Moore, offensive lineman Edwin Williams and defensive end Cheta Ozougwu.

Dead even: With Monday night's loss, the all-time regular-season series between the Bears and 49ers is now tied 29-29-1. San Francisco has won all three postseason meetings.

Important stretch: Monday night's game was the first of seven straight contests against NFC opponents for the Bears to close the regular season. Beginning next Sunday when they host the Vikings at Soldier Field, they'll play four of their final six games versus NFC North rivals.

News and notes: The Bears failed to generate a takeaway for the first time this season. They entered Week 11 leading the NFL with 30 takeaways, having produced at least two in each of their first nine games. ... The 32 points the 49ers scored were the most the Bears have yielded this season. ... San Francisco compiled 123 yards on the ground as Frank Gore rushed for 78 yards on 17 carries and Kendall Hunter added 27 yards on five attempts, including a 14-yard TD.