BOURBONNAIS, Ill. — Kelvin Hayden's first appearance at Soldier Field this year also will be his last.
The Bears announced Wednesday that the veteran nickel back needs surgery to repair a torn hamstring and will miss the entire 2013 season. Hayden, who will face 6-8 months of rehabilitation, suffered the injury early in last Saturday night's Family Fest practice at Soldier Field.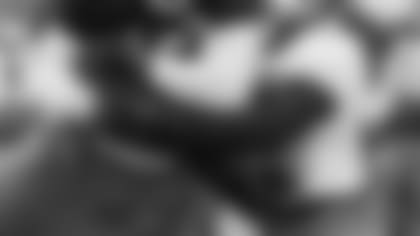 Kelvin Hayden defends against Pro Bowl receiver Brandon Marshall during a drill in training camp.
"Kelvin has worked so hard," said safety Chris Conte. "He's been doing a great job, and it's really tough to see him go down like that. I know none of the DBs really expected it to be that serious. To hear he's out for the whole year is kind of shocking. So prayers and thoughts go to him and his family, and hopefully surgery goes well and he's back soon."

Untested first-year pro Isaiah Frey has worked with the first-team defense at nickel back since Hayden was injured and appears to be the favorite for the job. While the 2012 sixth-round draft pick has had a stellar training camp, he has yet to play in an NFL regular-season game.

After spending his entire rookie season on the Bears' practice squad last year, Frey has regularly made excellent plays on the ball in practice this summer.

"Isaiah has got to come out and continue to do what he's doing, make plays," said coach Marc Trestman. "When he gets the opportunity to be in the right place and do the right thing, he'd doing that. He's certainly in the competition right now to be that guy. But we've got a long way to go.

"It's early in training camp. We've got three more weeks to go or thereabouts. It'll take care of itself as we move along. He's certainly exciting us the way he's played consistently and practiced consistently and made plays consistently in the first week and a half or two weeks of this thing."

With Hayden out for the season, Frey now has a golden opportunity not only to earn a roster spot but to become a regular contributor on defense. His focus Wednesday afternoon, however, was on his fallen teammate, a nine-year veteran Frey considers a mentor.

"You hate to see that happen," Frey said. "I am praying for him that he gets healthy real fast.

"I am not really thinking about [his own opportunity] right now. I am just doing what the coaches ask me to do. A good friend of mine, a good teammate, injured himself. I can't even explain how much [Hayden] helps me. He helps me continuously and he is going to continue to help me."

Frey's first test in terms of a game will come in Friday night's preseason opener in Carolina.

"He's going to have a much larger role and have to step up, and I think he's capable of doing that," Conte said. "He's a young guy and it's a chance for him, especially on Friday night, to prove what he can do and show the coaches that he can handle the responsibility and more importantly show the players that he knows what he's doing and he can make plays. I think he can do that."