The following is the ninth of nine position previews in advance of training camp.*
With the Bears looking to fill jobs at return specialist, punter and long-snapper, the competition on special teams in training camp is expected to be intense.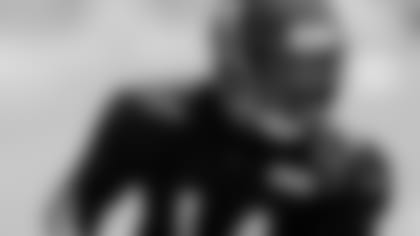 Eric Weems will battle for the starting return specialist position as the Bears head to training camp.
Candidates for the punt and kickoff return spots include Eric Weems, Micheal Spurlock, Armanti Edwards, Chris Williams and Michael Ford. The openings were created during the offseason when the Bears chose not to re-sign free agent Devin Hester, who ultimately joined the Falcons.
Weems is the most experienced of the group. Spending his first five seasons with the Falcons from 2007-11, he averaged 25.6 yards on 113 kickoff returns and 10.6 yards on 77 punt returns. He was voted to the Pro Bowl in 2010 when he returned three kicks for touchdowns, including a 102-yard kickoff return in a playoff game against the Packers.
Weems was used sparingly in the return game the past two seasons with the Bears because he was behind Hester, who owns the NFL's all-time record with 18 combined kick return touchdowns. But with Hester gone, Weems now has a chance to win the job.
"I've been patient for the last two years and now I feel like it's my turn, and I'm going to take full advantage of it," Weems said.
The Bears signed Spurlock and Edwards June 3, exactly one week after veteran return man Domenik Hixon was lost for the season with a torn ACL in the Bears' first OTA practice.
Spurlock has played in 67 games with two starts over seven seasons with the Cardinals (2006), Buccaneers (2007, '09-11), 49ers (2009), Chargers (2012), Jaguars (2012), Lions (2013) and Cowboys (2013). He has averaged 9.6 yards with two touchdowns on 81 punt returns and 24.2 yards and three TDs on 107 kickoff returns.
Edwards has appeared in 41 games over four seasons with the Panthers (2010-13) and Browns (2013), averaging 7.0 yards on 40 punt returns and 19.7 yards on 15 kickoff returns while adding six receptions for 131 yards and three rushes for 12 yards.
Williams is an intriguing prospect the Bears signed last December off the Saints practice squad. The New Mexico product played three seasons in the Canadian Football League with the Hamilton Tiger Cats, setting a CFL record with six return touchdowns in 2012.
Ford is also a possibility. The second-year pro from LSU ranked second in the SEC in kickoff returns in 2012, averaging 27.5 yards with four returns of at least 40 yards.
The competition at punter will involve rookie sixth-round pick Pat O'Donnell and first-year pro Tress Way, who originally signed with the Bears as an undrafted rookie in 2013 and averaged 38.2 yards on six punts last preseason before being cut.
O'Donnell set a school-record at Miami last season with a 47.1-yard gross average. He spent the previous four years at Cincinnati, redshirting after suffering an injury as a true freshman in 2009.
O'Donnell possesses rare size and strength for a punter. Standing 6-4 and weighing 220 pounds, he did 23 reps of 225 pounds at the NFL Combine—more than six tight ends, 19 running backs, 21 defensive linemen and all 37 wide receivers.
With Patrick Mannelly retiring after playing a Bears-record 16 seasons and 245 games, Brandon Hartson and Chad Rempel will compete for the long-snapping position in camp.
The one constant on special teams remains veteran Robbie Gould, who is the third most accurate field-goal kicker in NFL history, having connected on 86 percent of his attempts (234 of 272). Last season Gould matched a career best with an 89.7 percent success rate (26 of 29).
"He's done a really good job not only in the field goal department but in the kickoff department last year with what we asked him to do, moving the ball around and being more of a directional guy than he had been," said special teams coordinator Joe DeCamillis.
"But the thing that's really impressed me this offseason is him taking the younger guys under his wing. He's taken an interest in both punters and both snappers, and not from just a selfish point of view of saying, 'I want the best holder, I want the best snapper for my field goals,' but 'I want the best thing for our football team.'"