With Sunday's regular-season opener against the Houston Texans just a few days away, the Bears offense has been bolstered by some key additions.
Since the preseason finale a week ago in Cleveland, tight end Zach Miller and receiver Eddie Royal have returned from concussions and three-time Pro Bowl guard Josh Sitton was signed after being released by the Packers.
"We got better through the weekend and now we're seeing how fast we can get these guys up to speed and how well they gel together," said offensive coordinator Dowell Loggains.
Miller, Royal and Sitton combined to play zero preseason snaps for the Bears. But all three veterans are expected to be in uniform Sunday in Houston.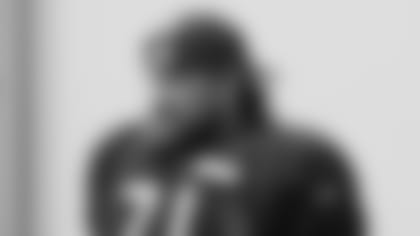 Three-time Pro Bowl guard Josh Sitton before practice at Halas Hall.


Asked what excites him most heading into the opener, Loggains said: "Just the fact that we're all together for the first time. Since preseason I don't know if we've had all 11 guys out there at one time. So I'm excited to finally feel like we're at full speed."
Royal returns hoping to avoid the injuries that limited him to nine games last year in his first season with the Bears—the fewest he's played since entering the NFL in 2008.
Royal's rookie season with the Broncos remains his most prolific as a pro. Teaming with Jay Cutler, the receiver caught 91 passes for 980 yards and five touchdowns.
Cutler denied that the chemistry between the two has dissipated, saying: "I have thrown to Eddie enough. He is so friendly getting in and out of breaks, it makes it easy for you."
Asked how the Bears will help Royal make up for the time he missed in training camp and the preseason, Cutler said: "Right now it is just getting him in condition and just getting him feeling comfortable. Him knowing what to do and a feel for the game, he has all of that.
"He's played football long enough. It's just getting a feel and feeling that contact because he probably hasn't been hit in a while. With some of those things, there will be some kinks in the first quarter he'll work out."
Sitton will have to make a different kind of adjust after signing with the Bears Sunday, exactly one week before the season opener.
"He's still getting it, he's still learning," Loggains said. "It's still early in the process, but he's a sharp guy who has played a lot of football at a very high level, so he'll get it."
Cutler was thrilled when the Bears signed Sitton, a highly-respected veteran who was voted to the Pro Bowl three of the past four seasons with the Packers.
"Anytime you can get a guy like that, a level of player of his nature, you've got to be excited," Cutler said. "He solidifies that offensive line and he's going to help make us better."
Sitton wasn't the only veteran the Bears added to their offense over the weekend. They also signed tight end Logan Paulsen, who was released by the Redskins.
"You get guys like that and it really makes my job easier," Cutler said. "I thought I was going to have to coach them through some practices and the language, the verbiage. But first walkthrough, boom, they are all over it. Those kind of guys you love them because they are just plug and play. That speaks a lot about who they are as people and what this stuff means to them."
With the new additions joining a corps led by Cutler that includes Pro Bowl guard Kyle Long, receivers Alshon Jeffery and Kevin White, and running back Jeremy Langford, the Bears quarterback is confident that the offense will make major strides.
"The talent level is definitely there," Cutler said. "We've improved in a lot of different areas. How is it going to go on Sunday? I mean, we're confident and I'm sure [the Texans] are confident as well. This group I think has the potential to get better and better each and every week."