BOURBONNAIS, Ill. — Jon Bostic grabbed the spotlight by returning an interception 51 yards for a touchdown. But fellow rookie linebacker Khaseem Greene also performed well in the Bears' preseason opener.
The fourth-round pick from Rutgers tied for the team lead with four tackles while also recording one tackle-for-loss and one stop on special teams in a 24-17 loss to the Carolina Panthers.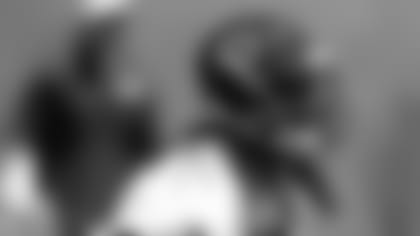 Khaseem Greene forced an NCAA-record 15 fumbles in four seasons at Rutgers.
"It was a starting point, a great experience to just get my feet wet and get used to the NFL game, so I felt good," Greene said Sunday at training camp in Bourbonnais.

Greene's most impressive play Friday night came when he knifed into the backfield and dropped running back DeAngelo Williams for a two-yard loss on second-and-goal from the 1.

"As long as I'm out there I'm going to try to do everything within the scheme and the defense to go out there and make plays," Greene said. "If the opportunity presents itself like that, I'm expecting and holding myself to the standard of going and making it."

Greene conceded that he experienced pre-game jitters Friday night, but the 24-year-old felt better after receiving positive feedback from his veteran teammates.

"I'm always nervous before every game," Greene said. "I guess it's just something that comes over me. But I felt really good after a while. Coming off the field and a couple of older guys seeing something I did, maybe not making a play but just seeing me get off a block or something and encouraging me, that felt good and it really got me going."

A safety-turned-linebacker at Rutgers, Greene forced an all-time NCAA record 15 fumbles while playing in 51 games with 39 starts over four seasons.

After starting all 13 games at safety in 2010, Greene moved to weakside linebacker and was voted the Big East defensive player of the year each of the past two seasons.

In 2011, he led the conference with 141 tackles while also recording 14.5 tackles-for-loss, 3.5 sacks and four forced fumbles. Last year Greene registered 136 tackles, 12 tackles-for-loss and six sacks with five pass breakups, two interceptions and six forced fumbles. He also scored touchdowns on two of three fumble recoveries.

Greene hopes to continue to flash his playmaking ability as a Bears rookie. And after playing on all four phases of special teams as well as on defense in the preseason opener, he knows that he must continue to work on his conditioning in training camp.

"The biggest adjustment was the speed and just my endurance, knowing myself and my limits to push myself and knowing that I've got work to do, some extra conditioning work and stuff like that," Greene said.

"The game does move fast and before you know it you play a [special teams play] and then you're right back out on [defense]. A guy could go down. All those types of things can happen and you've got to be ready. You can't be tired. Nobody cares if you're tired. You've got to be ready to go out there and play."