It appears that Bears rookie fourth-round draft pick Khaseem Greene will get the first opportunity to replace injured seven-time Pro Bowler Lance Briggs at weakside linebacker.
Briggs is expected to be sidelined about six weeks after fracturing his shoulder Oct. 20 against the Redskins. He was replaced in that game by Blake Costanzo, who has primarily been a special teams contributor during seven NFL seasons with the Bills, Browns, 49ers and Bears.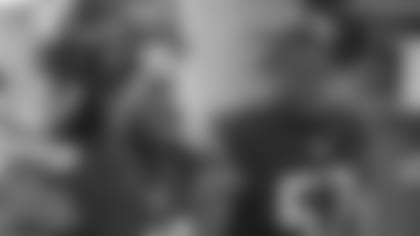 Khaseem Greene (left) could join fellow rookie linebacker Jon Bostic in the starting lineup next Monday night in Green Bay.
"Khaseem will certainly get a very good look here No. 1," said coach Marc Trestman. "We've got Jerry [Franklin] and we've got Blake and we just brought in [Larry] Grant, but we'll start with Khaseem and we'll see how the week goes. We've got a long way to go before we get started."
With a solid week of practice, Greene can earn his first NFL start next Monday night when the Bears (4-3) visit the Packers (5-2) with a share of first place in the NFC North at stake.
"This is what one day we all look forward to doing is being starters in the NFL," Greene said Monday after practice. "For me, it's just taking more reps and getting familiarized with the starters and if my number is called then being out there with those guys."
Even if he gets the nod, Greene doesn't intend to turn himself into Briggs, who tops the Bears with 64 tackles and nine tackles-for-loss and is tied for the team lead with two sacks.
"If I am the starter, I can't go out there and try to be Lance and try to do too much because I'm not him," Greene said. "I can learn from him and I've learned a lot from him. But I can't go out there and try to force myself to make plays and stuff like that or else I'll end up hurting the defense and the team. So my main thing is just doing what I'm supposed to do."
The Bears hope that Greene produces like he did at Rutgers, where he was voted Big East defensive player of the year each of the past two seasons after switching from safety to weakside linebacker. In the process, he became the NCAA's all-time record holder with 15 forced fumbles.
Last year Greene recorded 136 tackles, 12 tackles-for-loss and six sacks with five pass breakups, two interceptions, six forced fumbles and two touchdowns on fumble recoveries.
Although he played extensively during the preseason, Greene is still adjusting to the NFL game.
"You go from high school to college and the guys are a little bigger and a little faster," he said. "You go to the [NFL] and the guys are a lot bigger and a lot faster and the game happens a lot faster.
"No longer can you outrun linemen. There are linemen in the league who run just as fast as you, who get to the point [of attack] just as fast as you, so now it's more mental, focusing on the little things that give you an edge, and that's been a big adjustment for me."
Learning alongside fellow rookie linebacker Jon Bostic since the two were drafted in April has helped Greene assimilate. Bostic has been the Bears' starting middle linebacker since veteran D.J. Williams was lost for the season with a torn pectoral muscle Oct. 10 against the Giants.
"Jon's a smart guy, so if I have a question one of the older guys hasn't answered, sometimes he knows it," Greene said. "If he has something that he doesn't quite understand or could use help with, I can assist him with it. So building that friendship has been great for us."
Greene also appreciates the guidance and advice that Briggs has provided.
"Lance is a great leader," Greene said. "He's somebody that I look up to on the team. He's a guy who I can go to for anything."
Briggs no doubt will continue to help Greene from the sideline while recovering from his injury. The rookie has played only one snap on defense to this point, drawing a 15-yard penalty for a late hit on Redskins quarterback Robert Griffin III.
"I've only played one snap of defense this year and just having an opportunity to maybe get out there and be a starter and play way more snaps is enough in itself to be fired up," Greene said. "But I've just got to stay calm, trust the defense and trust the scheme and then also build some confidence in my teammates so they know that I can actually go out there and compete if I'm the guy."