Last year ESPN analyst Mel Kiper Jr. knew immediately that the Bears had a good draft. He just didn't know how good until watching the 2016 crop perform as rookies.
In updating the draft grades he assessed a year ago, Kiper on Thursday changed the "A-" he initially awarded the Bears to an "A." The impressive mark no doubt is a reflection of the Bears having three 2016 draft picks named to the NFL All-Rookie Team in outside linebacker Leonard Floyd, running back Jordan Howard and center Cody Whitehair.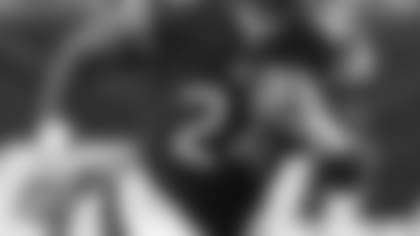 Running back Jordan Howard ranked second in the NFL in rushing yards.


Floyd emerged as an impact player after the Bears traded up two spots in the draft to take him with the ninth overall pick. He recorded seven sacks in 12 games, scored a touchdown on a strip/sack and fumble recovery against the Packers, and later recorded a safety with a sack in the end zone versus the 49ers.
Howard, a fifth-round pick from Indiana, ranked second in the NFL in rushing and set Bears rookie rushing records with 1,313 yards and seven 100-yard games.
Whitehair anchored the Bears offensive line throughout the year after moving to center—a position he never played at Kansas State—a week before the season opener.
"The Bears have to get a really good grade so far," Kiper wrote, "because at two spots they got guys who are already really good NFL players—among everybody, not just rookies—and they got exceptional value. I'll start there: Cody Whitehair is already one of the top handful of centers in the NFL, and the Bears got him late in Round 2. Jordan Howard is already one of the top five or six running backs in the NFL, and the Bears got him in Round 5. On a per-snap basis, he was every bit as good and arguably better than Ezekiel Elliott.
"I expressed concern at the time about Leonard Floyd's frame and how well he could hold up, but he had 12 starts, seven sacks, made my All-Rookie Team and showed he can be a disruptive force. With guys like that, you have to ask those questions, but so far he's showing he has what it takes. Jonathan Bullard also saw almost 300 snaps and could be useful going forward. I said then I thought Nick Kwiatkoski could start early, and that could be the case in Year 2. From there, the only question is if the Bears can develop some of the secondary talent they added. If so, it's a bonus on a solid class."