One day after his contract was terminated by the Bears, receiver Johnny Knox revealed Wednesday that the serious back injury he sustained late in the 2011 season will end his football career.
"As an athlete, you don't want to give up, you want to keep fighting," Knox told the Chicago Sun-Times. "That's how I've always been. But it's been on my heart for a while now. I know how my body feels, and I know I'm not going to be the same and perform at the ability that I used to.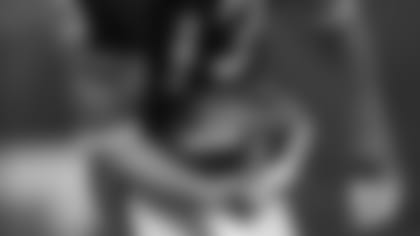 Johnny Knox
"So I'm moving on and going forward."

Knox, 26, spent the entire 2012 season on the physically unable to perform list after hurting his back on a freak play Dec. 18, 2011 in a loss to the Seahawks. After fumbling on a 17-yard reception, he turned back toward the line of scrimmage to try to retrieve the ball and was drilled by Anthony Hargrove, a 6-3, 272-pound defensive end who was charging downfield full speed.

Knox's body bent back grotesquely and he remained down on the field for nearly 10 minutes before being removed on a backboard and taken to the hospital, where he underwent surgery.

"I was centimeters away from being paralyzed, so just sitting here and talking, I'm appreciative of that," Knox told a Sun-Times reporter, "just the hard work that I had to put in, just to be able to stay in and do everything in my daily life that I used to do."

Knox started 27 of 45 games played in three seasons after joining the Bears in 2009 as a fifth-round draft pick from Abilene-Christian, catching 133 passes for 2,214 yards and 12 touchdowns. His 16.6 yards per reception was seventh best in the NFL during that time.

Knox was drafted by the Bears with a pick they had obtained from the Denver Broncos as part of the trade that landed quarterback Jay Cutler.

Knox was voted to the Pro Bowl as a rookie on special teams, ranking second in the NFL with a 29.0-yard average including a 102-yard touchdown on 32 kickoff returns.

In 2010, Knox topped the Bears with 960 receiving yards and tied for the team lead with 51 receptions and five touchdown catches.

He led the Bears again with 727 receiving yards in 2011 despite missing the final two games following his injury, and he ranked second in the NFL with an average of 19.6 yards per reception.