Johnny Knox continues to make steady progress in his recovery from last season's devastating back injury, but the Bears receiver isn't sure when he'll be cleared to return to action.
"There's really no timetable," Knox said Wednesday at training camp. "We're all taking our time on this. They're not rushing me. I'm not rushing myself. This was a serious injury, so we're all taking our time on this."
Knox will start training camp on the active/physically unable to perform list. He can be moved to the active roster at any time during camp. But if he opens the regular season on the PUP list, he would have to sit out the first six weeks.
Wide receiver Johnny Knox has caught 133 passes for 2,214 yards and 12 touchdowns in three seasons with the Bears.
Knox was injured last Dec 18 when he fumbled on a 17-yard reception over the middle. Turning back toward the line of scrimmage to try to retrieve the ball, he was drilled by Anthony Hargrove, a 6-3, 272-pound defensive end who was charging downfield full speed.
Knox's body bent back grotesquely, and he remained down for nearly 10 minutes before being removed on a backboard and taken to the hospital, where he underwent surgery.
The 25-year-old told reporters Wednesday in Bourbonnais that he has been doing some light running.
"Yeah, I'm jogging," Knox said. "I don't have that same burst that I used to have, but that's to be expected with this injury. But I'm jogging and moving around pretty good.
"Right now I'm setting small goals, taking a little bit at a time. At first I knew it was going to be hard to run. But now I'm running better than I thought I would. I'm getting my weight back a little more and [lifting] heavier weights in the weight room, so I'm doing good.
"Each day I get better, each week I get better. I improve in different things."
Knox was selected by the Bears in the fifth round of the 2009 draft out of Abilene Christian. He was voted to the Pro Bowl as a rookie on special teams, ranking second in the NFL with a 29.0-yard average including a 102-yard touchdown on 32 kickoff returns.
In 2010, Knox topped the Bears in receiving yards (960) and tied for the team lead in receptions (51) and receiving touchdowns (five). Last season he led the Bears in receiving yards (727) once again despite missing the final two games following his injury, and he ranked second in the NFL in yards per reception (19.6).
While Knox vows that he will return at 100 percent, he admits that the injury has affected him not only physically but mentally.
"There have been days like that where I've been down," he said. "But for the most part I always stay positive and stay motivated. That's why I'm out here today, getting better."
Joining his teammates at training camp has given Knox a huge boost.
"It means a lot to me," he said. "Even though I'm injured, I've never been so excited to come down here and be around the guys all day every day and focus on just strictly rehab."
Teammates have helped Knox cope throughout his ordeal. [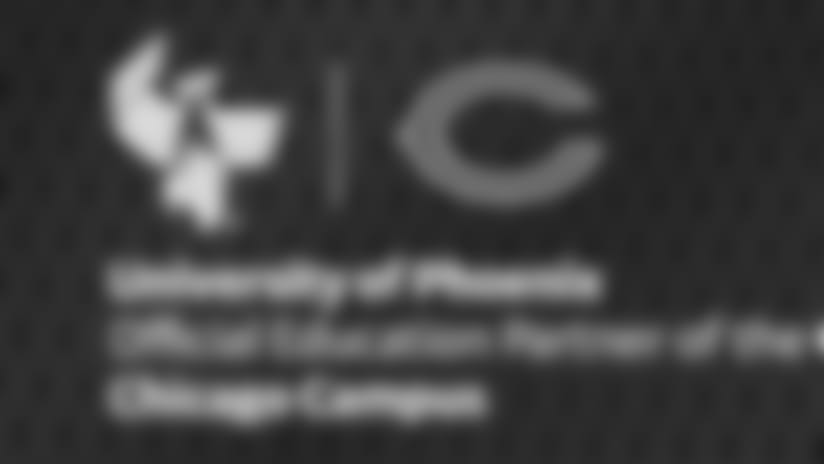 ](http://www.phoenix.edu/campus-locations/il.html?utmsource=Story&utmmedium=instory&utmcampaign=300x100)
"It was frightening at first," Knox said. "But I have a lot of great people surrounding me and keeping me positive. I've been positive since Day 1 and I'm going to stay that way."
Fellow receiver Devin Hester is among those who have provided support. 
"I just called Johnny about two minutes ago trying to see where he is at," Hester told reporters Wednesday. "His confidence is totally building up. He understands the situation he is in right now, so I think that is a good thing. He knows what his position is right now and what it takes to get back to where he wants to be."