BOURBONNAIS, Ill. – When Aaron Kromer joined the Saints as an assistant coach in 2008, there was a running back in the draft he really liked who had starred in New Orleans at Tulane.
Kromer ultimately would have to wait five years to coach Matt Forte, something the Bears' first-year offensive coordinator and line coach is thoroughly enjoying in training camp.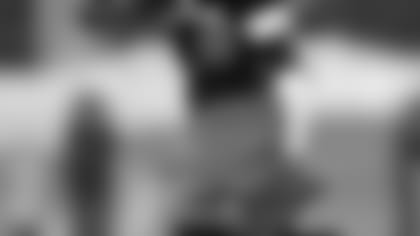 Matt Forte ranks fourth on the Bears' all-time rushing list with 5,327 yards.
"You can't appreciate him until you work with him every day," Kromer said. "Coming out of college we really wanted to draft him, so I'm glad to join him at this point. Matt is very talented. He's strong, physical, patient and he's fast, which is an odd combination."
Forte has been ultra-productive since joining the Bears as a second-round draft pick (44th overall). After just five seasons, he ranks fourth on the franchise's all-time list in rushing (5,327 yards) and third in yards from scrimmage (7,652) and 100-yard rushing games (15).
From 2008-11, Forte became the first player in NFL history to compile at least 900 yards rushing and 400 yards receiving in each of his first four seasons.
That streak was snapped last year when Forte was limited to a career-low 44 receptions for 340 yards. But he hopes to be utilized more in the passing game this season under Kromer.
A different edge: Expectations are high this season for second-year receiver Alshon Jeffery, who showed flashes as a rookie last year while being hampered by injuries.
"He's got a different edge to him," said quarterback Jay Cutler. "I think he got a bit stronger in the offseason. He understands football. He's not a rookie anymore. He wants to make plays for us."
The Bears traded up five spots in the second round of last year's draft to pick Jeffery, who caught 24 passes for 367 yards and three touchdowns in 10 games as a rookie.
"He knows that he's going to get some opportunities opposite 'B' [Brandon Marshall] and with Martellus [Bennett] in there," said quarterback Jay Cutler. "He's going to get some single coverage. I thought he's had a great minicamp and OTA and training camp so far."
More chances: Jeffery did not finish Saturday night's practice at Soldier Field due to tightness in his hamstring. Ditto for receiver Earl Bennett, who was being evaluated for a concussion.
If either or both remain sidelined, receiver Devin Aromashodu could get more reps in practice. The 6-2, 202-pounder rejoined the Bears for a second stint with the team in June.
"He's continued to progress, he's learning the offense and he's a smart guy," said coach Marc Trestman. "He understands what's going on, has played here, played the position. I know the quarterbacks have a confidence level in him because they've been around him. They know him a little bit better than the coaches do."
Aromashodu appeared in 24 games with four starts over two seasons with the Bears in 2009-10. In 2009, he developed a rapport in offseason workouts and training camp with Cutler and then caught 24 passes for 298 yards and a career-high four touchdowns.
Aromashodu spent the past two seasons with the Vikings, catching 37 passes for 650 yards and one touchdown while appearing in 31 games with six starts.
Stepping up: Few players have performed better in training camp than cornerback Isaiah Frey, a 2012 sixth-round pick from Nevada who spent his entire rookie season on the practice squad.
"He's having a very competitive camp," Trestman said. "He's been very consistent throughout. He's continually playing at a high level, making plays, knocking passes down, creating opportunities for himself. He's in a terrific competition with other guys on this team. He's shown himself every single day. He's done a lot of good things."
Frey replaced Kelvin Hayden at nickel back with the first-team defense Saturday night after the veteran suffered a hamstring injury. With Hayden likely to miss some time, Frey will get even more opportunities to impress the coaching staff.