The following is the first of 10 stories featuring Bears coordinators and position coaches.
As Aaron Kromer enters his first season as Bears offensive coordinator/offensive line coach, he hopes to replicate what transpired the last time he joined a new NFL team.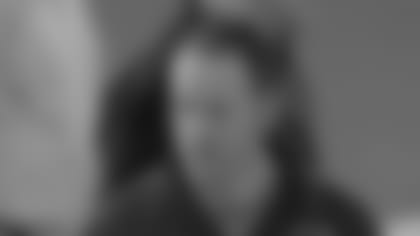 Aaron Kromer enters his first season as Bears offensive coordinator/offensive line coach.
In his first year as a Saints assistant in 2008, New Orleans won the Super Bowl while leading the NFL in total offense (403.8 yards) and scoring (31.9 points).
"The experience was great," Kromer said. "It taught me a lot about how to put a program together, stick with the plan, and adjust the plan slightly to get to where you want to be, and that's what I hope to bring to the Bears. It's a great accomplishment when you get to the pinnacle of the game."
In joining the Bears, Kromer reunites with first-year head coach Marc Trestman. The two men worked together on the same staff with the Raiders from 2001-03, including in 2002 when Oakland led the league in total offense and reached the Super Bowl.
"We had a lot of success together," Kromer said. "That's one of the things that intrigued me about coming back with him. When we were with the Raiders, we had a very good working relationship, just understanding how each other thought and putting things together easily, so we look forward to this season [being] the same way."
Kromer is impressed with how Trestman puts his players in the best position to succeed.
"Marc does a great job of understanding the talent on the team and working with that talent to create plays that match," Kromer said. "He does everything he can to make sure the quarterback fits the scheme and the other skill-position players fit as well. Anytime you can do that you're going to have success."
An NFL assistant since 2001, Kromer spent the past five seasons with the Saints, coaching running backs in 2008 before working with the offensive line/running game from 2009-12.
Last season Kromer filled in as the Saints' interim head coach for the first six games while Sean Payton and Joe Vitt were both serving suspensions imposed by the NFL.
In Kromer's four seasons tutoring the offensive line, New Orleans sent five linemen to a combined 10 Pro Bowls and tied for the fewest sacks allowed in the NFL with 96. The all-stars included tackles Jermon Bushrod (2011-12) and Jon Stinchcomb (2010), guards Jahri Evans (2010-13) and Carl Nicks (2011-12) and center Jonathan Goodwin (2010).
Last season the Saints ranked second in the NFL in total yards with 410.9 per game and third in scoring with 28.8 points. They also permitted only 26 sacks, tied for the third fewest in the league.
Kromer played offensive tackle for three seasons at Miami University in Ohio from 1987-89 before starting his coaching career at his alma mater from 1990-98 under Randy Walker. Kromer then moved to Northwestern with Walker in 1999, serving as the Wildcats' offensive line coach for two seasons before entering the NFL in 2001 with the Raiders.
Even as a teenager, Kromer knew that he wanted to become a coach.
"When I was in high school we'd work with the younger kids and even back then I was hoping I could be a coach," Kromer said. "At that time I was hoping to be a high school coach because that's what I had seen and that's what I had been around."