The injury bug that tormented the Bears in training camp last year fortunately has been fairly dormant this summer. But it did claim a victim late last week.
Bears backup guard Eric Kush is scheduled to undergo surgery Tuesday to repair a torn hamstring he suffered in last Friday's practice and will miss the entire season.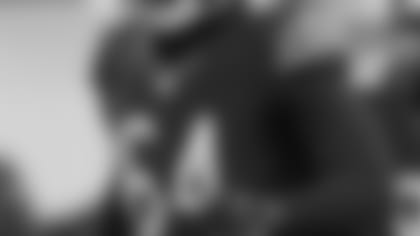 Bears guard Eric Kush started four games last season in place of the injured Josh Sitton.


"He has been struggling with a hamstring," said coach John Fox. "This was a separate injury, a different portion of the hamstring. It did tear from the bone and he will have that replaced. Our thoughts and prayers are with him as he embarks on surgery."
Kush appeared in eight games with four starts last year in his first season with the Bears after being claimed off waivers from the Rams following final cuts.
His four starts came in place of injured Pro Bowler Josh Sitton at left guard. The Bears went 2-2 in Kush's starts, including a 20-10 victory over the Vikings in which the offense produced 403 total yards without committing a turnover.
Prior to joining the Bears, Kush played three games with the Chiefs in 2013 and seven contests with the Rams in 2015. He also has spent time with the Buccaneers, Panthers and Texans. Kush was selected by the Chiefs in the sixth round of the 2013 draft.
The Bears' starting guards remain Pro Bowlers Kyle Long and Josh Sitton. With Kush out, those battling for reserve jobs include Mitchell Kirsch, Jordan Morgan and Cyril Richardson. Long is being eased back into action while recovering from a broken ankle that forced him to miss the final seven games last season.
A natural center, Hroniss Grasu has also been taking reps at guard. On Monday, Grasu took some snaps at center with Cody Whitehair sliding over to guard. Whitehair worked at guard as a rookie last summer before being switched to center a week before the regular season. He ended up starting all 16 games at center—a position he never played at Kansas State—and was selected to the NFL All-Rookie Team.
"We actually worked [Whitehair] a little bit [at guard] today," Fox said. "With Hroniss at center, as we kind of nurse Kyle back, we did practice that a little bit today and we will moving forward just to keep that flexibility.
Grasu is working his way back from a torn ACL he sustained at last year's Family Fest practice at Soldier Field.
"It's been a long road, very grueling, so we're just building confidence in his skills and we're increasing more and more what he's doing. He's pretty much full-go right now and is getting back off of having a season off."
Fox feels the Bears are better equipped to overcome the loss of a key backup such as Kush than they were last summer.
"We're a lot further along than we were a year ago," said the Bears coach. "One of our starters wasn't even here (Sitton). So we'll make do. Obviously it's a blow to lose a guy like Eric who fits our mold pretty well. But we'll get over it and have to make some adjustments. I like the guys we're working with."
Roster moves: After placing Kush on injured reserve, the Bears filled his roster spot by signing undrafted rookie offensive lineman Brandon Greene. The 6-5, 295-pounder appeared in 54 games the past four seasons at Alabama as an offensive tackle and tight end.
The Bears on Monday also waived undrafted rookie kicker Andy Phillips and signed receiver Alton Howard.
Howard entered the NFL last year with the Raiders as an undrafted free agent from Tennessee, where he played for current Bears receivers coach Zach Azzanni.
In four seasons with the Volunteers from 2012-15, Howard caught 99 passes for 1,014 yards and four touchdowns. The 5-7, 184-pounder had his best season in 2014 when he had 54 receptions for 618 yards and one TD while rushing for 96 yards and two touchdowns on 15 carries.