Kyle Long will make history Sunday when he becomes the first Bears rookie to start at right guard in a season opener during the Super Bowl era.
While the first-round pick appreciates the significance of the accomplishment, he's concentrating more on honing his assignments as he prepares to face a talented Cincinnati Bengals defense at Soldier Field.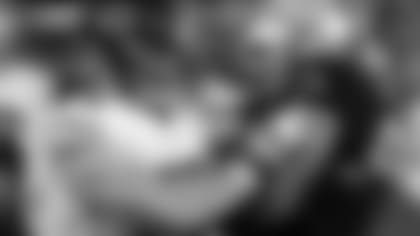 Kyle Long was selected by the Bears with the 20th pick in the NFL Draft out of Oregon.
"I try not to focus on that type of stuff," Long said. "That's really good trivia and everything. It's a good tidbit to know. But right now I'm so focused on who to block on inside zone right and that kind of stuff. That stuff is far more important to me at this point."

Long will be challenged right out of the gate by a Bengals defensive line that produced 43 of a team-record 51 sacks last season. Defensive tackle Geno Atkins has been voted All-Pro each of the past two years. The Georgia product recorded 12.5 sacks in 2012, the most by a defensive tackle in the NFL.

"To get an opportunity to play against [Atkins], it's a little test for our offensive line," Long said. "I'll be lining up against him a lot. It will be a good opportunity. Luckily, we have great guys we practice against every day and it gets us ready to go for Sundays."

Long, who started each of the first three preseason games, has noticed an accelerated sense of urgency this week as the Bears prepare for their opener.

"It's a different feeling," he said. "It's strictly business. There are 53 guys walking around. Our meeting rooms look a lot less filled up than they were. This is the team that we're going to roll with and we're going to do everything we can to get ready for Sunday."

Long doesn't think the speed of the game will be much different Sunday than it was during the preseason. But he knows the intensity level will be higher.

"I'm sure it will get ratcheted up on Sunday," Long said. "It's the game of football. These are some of the best athletes in the world flying around at full speed with full body armor on. So you've got to be ready to roll and you've got to be ready for anything, and that's why we put in so much time and attention to detail here at Halas Hall."

Few players have traversed a more unique path to the NFL than Long. The 6-6, 313-pounder was selected by the White Sox in the 2008 Major League Baseball draft out of high school, but opted to pitch at Florida State.

Long switched to football two years later, enrolling at Saddleback Community College in California, where he played defensive end in 2010 before moving to the offensive line in 2011. In his only season at Oregon last year, he appeared in 11 games with five starts at left guard.

Long hopes to play a long time in the NFL, but is eager to get past his debut.

"I'm really excited about the opportunity to get this game over with," he said. "I want to get this game under my belt. Also as a team I feel like the first game is like taking that first hit in a boxing match. Once you take your first hit then you can kind of get your feet under you and get going. Right now everybody's so geared up and ready for this game Sunday."