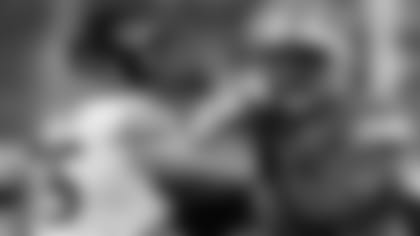 Bears guard Kyle Long blocks Lions defensive tackle Ndamukong Suh in a Week 4 game in Detroit.
Selected with the 20th pick in the draft, Long started all 16 games as a rookie after opening just five contests at the Division I college level last year at Oregon.
The 6-6, 313-pounder was part of a revamped offensive line in 2013 that helped the Bears rank second in the NFL with 445 points and set franchise records with 6,109 total yards, 4,450 passing yards, 32 passing touchdowns and 344 first downs.
"Though he had just a few years of football experience before entering the league, Long proved to be a very good player, a pass protector who can get to the second level," wrote Brandt, who served as vice president of personnel with the Dallas Cowboys from 1960-88.
"He has a great deal of upside in front of him. Personally, I think he'll be a perennial Pro Bowl selection. He's tough, tough, tough-you want to be sure he's on your side if you're in a fight."
Long has also been named to NFL All-Rookie teams by Pro Football Focus and the Pro Football Writers of America. He recently thanked his Twitter followers for congratulating him on the honors, writing: "Let me be the first to say none of it is possible without all the vets around me and my dude [fellow rookie Jordan Mills]."