Jeremy Langford is trying to show the Bears they made a wise decision selecting him in the fourth round of the draft. The rookie running back certainly made a smart choice of his own during the offseason, asking veteran teammate Kyle Long if he could work out with him before training camp.
Forte was happy to oblige and the two spent a couple of weeks training together.
"We trained together and I showed him my routine and how I kind of do it, which is really smart of him to get behind an older, veteran guy and try to learn the routine of what he does in the offseason," Forte said. "We worked out for a couple of weeks and he's a down-to-earth, humble type of kid."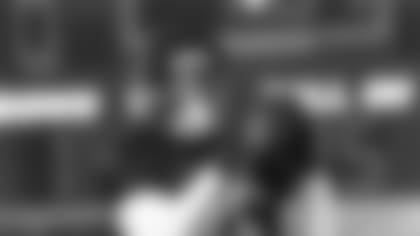 Jeremy Langford with a catch at training camp practice.
Forte has rushed for at least 1,000 yards in five of seven seasons with the Bears and ranks second in franchise history behind Hall of Famer Walter Payton in yards rushing (7,704), 100-yard rushing games (23), receptions (443), receiving yards by a running back (3,727) and yards from scrimmage (11,431).
"Forte has been a consistent good running back in the league for a while now," Langford said, "so I felt like getting a chance to be able to learn from him and him being willing to teach me, you've got to stay behind and learn from him because he's done a great job in the NFL. So it was just me wanting to learn from him and see his routine.
"He works hard. You can tell he's been in the league for a reason. He's a hard worker and he does what he has to do."
Knowing that veterans aren't always willing to help rookies, especially those who may ultimately compete with them for playing time, Langford was a little hesitant to ask Forte about joining him for workouts.
"I didn't know what to expect," Langford said. "I had heard a lot of different things about veteran running backs. But Forte is a good guy and I think he never really thought about that aspect because he's a hard worker, so you're not going to just push me off to the side because we're all here to win. I feel like that's the mindset we have right now, is we want to win and we need the whole team to do that."
Langford was a productive four-year contributor and two-year starter at Michigan State, rushing for 2,944 yards and 40 touchdowns on 568 carries the past two seasons. He arrived on campus as a running back, but played some cornerback and receiver before returning to his natural position in 2013.
Langford rushed for at least 100 yards in 18 games at Michigan State, the third most in school history, and closed his career by topping the 100-yard mark in his last 15 Big Ten games.
After being drafted by the Bears, the 6-foot, 208-pounder told reporters that he tried to emulate Forte in college.
"I watch Matt Forte a lot," Langford said at the time. "That's who I watch. I see him stand up linebackers all the time in blitz pick-up. I feel like he does it all. He catches the ball out of the backfield very well. He blocks linebackers very well. I learned a lot watching his film to be able to block linebackers. I feel like he does it. He has the whole package."