Several rookies made key contributions for the Bears in 2015, but none of them were more productive than running back Jeremy Langford.
The fourth-round draft pick from Michigan State rushed for 537 yards and a team-high six touchdowns on 148 carries and caught 22 passes for 279 yards and 1 TD. For Langford's performance, ChicagoBears.com has selected him as the Bears' Rookie of the Year.
Langford excelled as a complementary back behind starter Matt Forte and then excelled as the featured back when Forte missed three November games with a knee injury.
Langford helped lead the Bears win back-to-back games by generating 142 yards from scrimmage (72 rushing, 70 receiving) against the Chargers and 182 yards (73 rushing, 109 receiving) versus the Rams while scoring three touchdowns.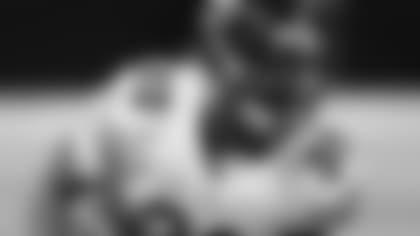 Jeremy Langford rushed for 537 yards and a team-high six touchdowns on 148 carries.


In the process, he became just the second Bears rookie to compile at least 70 yards rushing and 70 yards receiving in multiple games, joining Hall of Famer Gale Sayers.
Adam Gase, who recently left the Bears after one season as offensive coordinator to become head coach of the Miami Dolphins, was impressed with Langford's power.
"His ability to run downhill, I was surprised at how aggressive he was," Gase said late in the season. "I know, coming from Michigan State, they did so many gap-scheme-type plays, downhill plays, but until you get a guy in the building and you start working with pads, you don't really understand how physical (he is).
"At first when you see him, he doesn't look like an overpowering guy. But the way that he runs, he runs behind his pads, he runs downhill, but he does have some elusiveness to him. He does hit defenders and he can wear on some guys. That is something that I've been very impressed with."
In the Bears' 37-13 win over the Rams Nov. 15, Langford became just the third player in franchise history with 100 receiving yards, one rushing touchdown and one receiving TD in a game, joining Hall of Famers Sayers and Walter Payton.
In that contest, Langford turned a screen pass into an 83-yard TD, the Bears' second longest play from scrimmage in 2015. Catching the Rams in an all-out blitz, Jay Cutler dumped the ball off to Langford, who sped down the left sideline, picked up a great block from Matt Slauson, cut back across the field and raced untouched into the end zone.
Langford's success as a Bears rookie wasn't a surprise given how he performed at Michigan State, where he rushed for 2,944 yards and 40 TDs on 568 carries his last two seasons.
He arrived on campus as a running back, but played some cornerback and receiver before returning to his natural position in 2013. Langford rushed for at least 100 yards in 18 games at Michigan State, the third most in school history, and closed his career by topping the 100-yard mark in his last 15 Big Ten games.