With several key additions, the Bears offensive line is just beginning the process of gelling as a unit during OTA practices.
Offensive linemen acquired during a busy offseason included Bobby Massie, Ted Larsen and Manny Ramirez in free agency and Cody Whitehair in the second round of the draft.
"It's a lot different when you're lined up in the spring and there are trash cans across from you and then when you've got these big, fast d-linemen across from you," said offensive lineman Kyle Long.  "There's going to be a bit of a learning curve.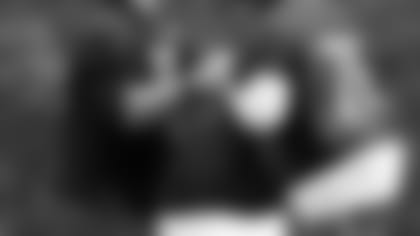 Kyle Long works with undrafted rookie lineman Donovan Williams during a recent practice.


"We've got to gel. You talk to a lot of guys who have been on good teams before and they've said, 'We didn't really gel until the end of training camp,' or 'it took us until training camp.' So there's going to be some time to get some of the rust off from a technical standpoint, from a live football standpoint, but I think we'll be all right."
Massie joins the Bears after making 46 starts the past four seasons with the Cardinals, all at right tackle. Long has been friends with Massie since they played high school football against each other in Virginia and helped recruit the 6-6, 316-pounder to Chicago.
Larsen has appeared in 86 NFL games with 57 starts the past six seasons with the Buccaneers and Cardinals, while Ramirez has played in 83 contests with 65 starts the last eight years with the Lions and Broncos.
With Larsen and Ramirez both having started games at left guard, right guard and center, the two veterans will provide the Bears position flexibility, which is important given that NFL teams typically have only seven linemen active on game day.
Whitehair, meanwhile, started 52 of 53 games over four seasons at Kansas State, including a streak of 41 straight to end his career. After splitting time between left guard and right tackle his first two seasons, he started at left tackle his final two years.
Whitehair, who grew up on a farm in Kansas, has impressed Long with his strength and attitude.
"The guy is tough," Long said. "He's a country boy. He doesn't say much. He's here to work, here to learn. He's respectful and he's got some big, old legs, man. He's a big, strong dude. He looks like he's been bailing haystacks for a while."
Even with all of the new additions, the most intriguing development on the offensive line this offseason has been Long's move back from right tackle to right guard. The 2013 first-round draft pick played right guard his first two seasons before switching to right tackle last year.
"It's a different position again, but I've played it before so we should be good," said Long, who has been voted to the Pro Bowl in each of his three NFL seasons. "We've got a couple weeks to shake off the rust here and get ready for camp and get ready for the season."
Long relishes the chance to shake that rust off against defensive end Akiem Hicks, a fifth-year pro the Bears signed in free agency.
"Being given the opportunity to go against Akiem Hicks every day, a guy that I played against in the past, it's going to be a battle every day and one I'm looking forward to," Long said. "I know I'll benefit from playing against him. He's a great player. Gosh, he's improved by leaps and bounds. He's just so creative now; he's got a lot of moves. He'll get us all better and they've got a lot of guys out there that are making us all better."