With the Bears on Friday ruling veteran Jermon Bushrod out of Sunday's game against the Raiders, second-year pro Charles Leno Jr. Jr. is expected to start at left tackle.
.
"It's a great opportunity," said Leno, a 2014 seventh-round draft pick. "I'm really excited, ready to play some football and get back to playing the way I know I can play."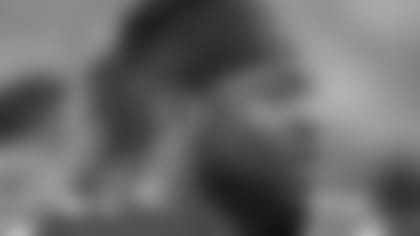 Charles Leno started his final 26 games at Boise State at left tackle.
Bushrod has started 33 of 35 games since signing with the Bears as a free agent prior to the 2013 season. The ninth-year pro did not practice all week after exiting last Sunday's loss to the Seahawks in the second half with a concussion.

Leno replaced Bushrod at left tackle in Seattle and has also seen action this season at times as a sixth eligible offensive lineman.

"It helps a lot," Leno said. "Getting some playing time absolutely helps, especially going out there and going against Seattle and guys like that."

Leno was selected by the Bears with the 246th pick in the 2014 draft out of Boise State. He appeared in six games as a rookie with one start as a sixth lineman. Since joining the Bears, Leno feels that he has improved in "every way, shape and form."

"I feel like I just got better since Day 1 and I'm trying to keep getting better every day," he said.

Leno started his final 39 games at Boise State, including the last 26 at left tackle.

"Skillset-wise, I think he's probably more adaptable to the left side than the right side," said coach John Fox. "It's a huge opportunity for him and we're all excited and anxious to see how he performs."

While Bushrod is the only Bears player to be been ruled out of Sunday's game, there's a lot of uncertainty elsewhere. Players who were limited in practice Friday and are questionable include quarterback Jay Cutler (hamstring), receiver Alshon Jeffery (hamstring), defensive linemen Jeremiah Ratliff (ankle), Will Sutton (elbow) and Ego Ferguson (knee), cornerback Alan Ball (groin) and punter Pat O'Donnell (knee).

Cutler practiced on a limited basis Friday for the third straight day. He hasn't seen game action since Sept. 20 when he hurt his hamstring late in the first half of a Week 2 loss to the Cardinals.