In replacing injured quarterback Jay Cutler with capable backup Josh McCown, the Bears don't have to change anything on offense. But that doesn't mean that they won't.
Just as Cutler has done throughout the season, McCown met with coach Marc Trestman this week to help formulate the game plan for Monday night's NFC North clash in Green Bay.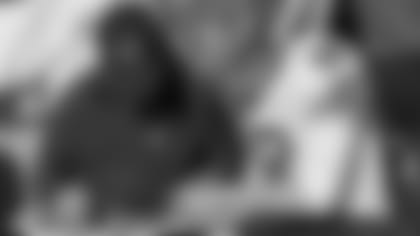 Josh McCown reviews photos with quarterbacks coach Matt Cavanaugh Oct. 20 versus the Redskins.
"Josh and I sat down and I said, 'This is what we're thinking about; is there anything you want to take out?'" Trestman said Friday after practice. "I do that with Jay as well.
"We have a number of concepts and principles that we have. We lay it out based on what we anticipate, but there's enough there that if the quarterback doesn't feel comfortable or there are things that he wants to focus on, there's that kind of flexibility in the offense."
The Bears didn't have that luxury Oct. 20 when McCown was inserted into a game against the Redskins after Cutler exited with a torn groin muscle. McCown thrived in relief, completing 14 of 20 passes for 204 yards with one touchdown and a 119.6 passer rating.
"Last week we continued on the game plan that we had and Josh handled it very well," said offensive coordinator Aaron Kromer. "When you have a week to plan, you're going to have a few things that Josh might like better than Jay. Usually they like it because they feel successful. They feel like they'll have success. They're confident before the ball is snapped that something good is going to happen, and that's important in a quarterback's mind and in an offensive mind.
"So we let Josh help us in ways just like we let Jay help us in ways [involving the] game plan: 'What do you like best? What are you going to take the snap from center and feel like you're going to have success with?'"
Big numbers: In Kromer's three games against the Packers as a Saints offensive assistant from 2008-12, New Orleans scored 51, 34 and 27 points and compiled 416, 477 and 474 yards.
Most of that production was generated by quarterback Drew Brees, who passed for 323 yards and four touchdowns, 419 yards and 3 TDs, and 446 yards and 3 TDs in the three games.
"You fit your offense to the talent that you have and the people that you have on your team and there are a lot of similarities between our offense and that offense, and there are some tweaks as well to fit our talent better," Kromer said.
Injury update: After being excused Thursday for personal reasons unrelated to his knee injury, cornerback Charles Tillman returned to practice on a limited basis Friday.
"I was happy to see Charles out there," Trestman said. "He would have to tell you how he felt. I haven't had a chance to talk with him, but he did work through the entire practice and got a number of reps and went at full speed, and that was certainly good to see."
Cutler (groin) and linebacker Lance Briggs (shoulder), both of whom are expected to be sidelined for several weeks with injuries they sustained against the Redskins, did not practice.
Looking good: Trestman has been pleased with how rookie Khaseem Greene has performed this week in practice with the No. 1 defense. But the Bears coach wasn't ready Friday to anoint the fourth-round pick the starter at strongside linebacker in place of Briggs.
"He's had two very good days of practice, I would say that," Trestman said. "To say he's solidified it, I wouldn't say that today. But I've seen him do very well the last two days and work in with James Anderson and [Jon] Bostic and making the calls and being in the right place. So I'm encouraged with the first two days of practice, no doubt about it."