The season opener is more than five months away. But after visiting Halas Hall Tuesday to sign his contract and meet with Bears coaches, James Anderson was ready to step on the field.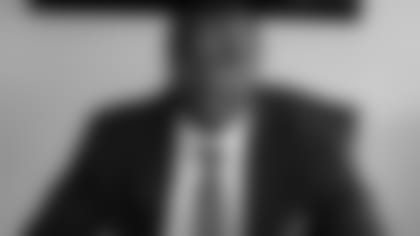 New Bears linebacker James Anderson signs his contract Tuesday at Halas Hall.
The veteran linebacker, who agreed to a one-year contract on Sunday, joins the Bears after spending his first seven NFL seasons with the Carolina Panthers.
"You just come in here and you can feel an emotion here and an energy that I'm excited to be a part of," Anderson told ChicagoBears.com. "I'm ready to go play ball."
Anderson appeared in 94 games with 53 starts for the Panthers, recording 432 tackles, eight sacks, seven fumble recoveries, five forced fumbles, three interceptions and 20 pass breakups. He started 44 games at strongside linebacker, eight at weakside and one in the middle.
Anderson had other options in free agency, but chose to sign with the Bears. The 29-year-old is expected to replace departed free agent Nick Roach at the strongside position.
"There were a couple of teams calling, but just to be in Chicago, to be a linebacker in this city with this great history and the way they love defense around here, you almost can't turn it down," he said.
Anderson is eager to reunite with former Panthers teammate Julius Peppers, who has been voted to the Pro Bowl in each of his three seasons with the Bears.
"It's going to be great," Anderson said. "Pep was one of those guys that has a rare ability to do stuff that regular people can't do ... He was the same kind of guy in Carolina, just a crazy athlete."
Anderson is also excited about lining up alongside Lance Briggs, a seven-time Pro Bowler.
"There's so much of the game I can learn from him, a guy who has proven year-in and year-out he's one of the best," Anderson said. "I'll be picking his brain every time I get a chance."