After missing five games with a sprained right thumb, quarterback Jay Cutler will make his second straight start Sunday when the Bears visit the Tampa Bay Buccaneers.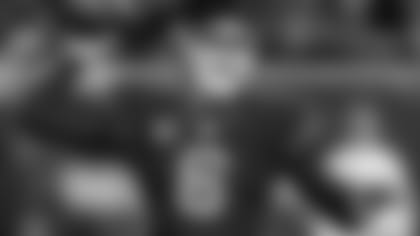 Quarterback Jay Cutler will make his second straight start Sunday when the Bears visit the Tampa Bay Buccaneers.


On Wednesday, offensive coordinator Dowell Loggains praised Cutler for his performance in his return to action in a 20-10 Halloween night win over the Vikings. The veteran quarterback shook off some early rust to pass for 252 yards and one touchdown in posting a 100.5 passer rating.
"The storyline of the game that was talked about was the run game. To me, it was how Cutler inspired his teammates," Loggains said. "I thought he played very inspired football, and it went back to his preparation and the way that he dealt with the injury and staying involved and helping [Brian] Hoyer.
"When [Cutler's] number was called, when he was cleared to be the starter again, he was ready to play. He didn't miss a beat. I thought he played his best game of the season, and we expect the Tampa game to be the next best."
Cutler was thankful for the support he received from his teammates.
"We have a good locker room; we've got a great bunch of guys in there," he said. "It doesn't matter who's playing, I feel like everyone's going to feel supported out there. Everyone's got each other's backs. Whoever's next up, we expect them to go out there and play. And that was the same case for me. Guys went out there and played extremely hard. It was Monday Night Football. I feel like our backs were up against the wall a little bit and guys responded, which was awesome to see."
Injury update: After missing the Vikings game and being limited in practice Wednesday, starting guards Kyle Long (triceps) and Josh Sitton (ankle) both worked out without restrictions Thursday.
Eric Kush and Ted Larsen filled in admirably for the two Pro Bowlers in the Bears' win over Minnesota, helping the offense compile 403 yards against the NFL's No. 1 defense. But it was still a relief to see Long and Sitton back on the field.
"If they're able to go, we're always excited to get our starters back out there," said offensive coordinator Dowell Loggains. "I thought last week Kush and Larsen played really well against a good defense and they stepped up and were ready to play. Those two guys deserve a lot of credit, getting themselves ready to play. But obviously any time you get your original starters out there, it's a big plus."
After missing two games with a toe injury, receiver Eddie Royal practiced on a limited basis for a second straight day.
"It gives us more options in the slot," Cutler said of Royal's return. "It gives us some more options on third down. We've been kind of cycling Cam [Meredith] through there, trying to get Zach [Miller] the ball, but being able to have him in there, and even first and second down having him at 'Z,' he's an explosive guy. He knows how to get open."
The real McCoy: The Buccaneers defense is led by tackle Gerald McCoy, a four-time Pro Bowler who tops Tampa Bay with four sacks.
"He's one of the best in the league," Cutler said. "You've got to know where he's at. You've got to try to get four hands on him as much as possible."
Trump supporter: Cutler was asked for his thoughts on Donald Trump's victory over Hillary Clinton in the U.S. Presidential election.
"I'm happy with the results," Cutler said. "I've supported Trump for a while. I'm not going to dive into it—I know it's a sensitive issue—but I like where it's going."