Bears quarterback Jay Cutler praised Dowell Loggains for how the offensive coordinator dealt with the offense's disappointing performance in the preseason opener.
The unit mustered just 130 yards and eight first downs in a 22-0 loss to the Broncos Aug. 11 as the Bears were shut out in a preseason game for the first time since 1981.
"We talked a lot about that game," Cutler said. "The major point for us was, 'Let's not panic. Let's not hit the fire alarm and put guys in a panic.'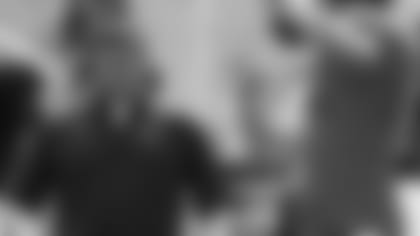 Dowell Loggains working with Jay Cutler during practice.


"It was the first preseason game and we watched the film and a lot of the stuff that went wrong was because of mistakes and [mental errors], so it was a matter of just kind of cleaning that stuff up and just going back to work."
Loggains' steady approach helped the offense rebound a week later in New England. After generating just 13 yards on 10 plays against the Broncos, the No. 1 unit produced a field goal and a touchdown on its first two possessions versus the Patriots, helping the Bears jump to a quick 11-0 lead in an eventual 23-22 defeat.
Cutler is hoping that the offense continues to make strides Saturday when the Bears host the Kansas City Chiefs in a preseason game at Soldier Field. The starters are expected to play into the third quarter in what is considered a dress rehearsal for the regular season.
Cutler has enjoyed working with Loggains, who was elevated to coordinator in January after serving as Bears quarterbacks coach last season. Loggains replaced Adam Gase, who left the Bears after one year to become head coach of the Miami Dolphins.
"[Loggains] sets the tone every day," Cutler said. "There's never a gray area in that world with him. He sets the tone, sets the standard, and if you don't live up to that and meet those expectations, he's going to be vocal and he's going to let you know.
"As a player, that's all you can ask for is a coach telling you how to do it, and when you don't do it, you expect him to push you and help you achieve those things."
On the rise: Although the Bears lost two Pro Bowlers in running back Matt Forte and tight end Martellus Bennett, Cutler thinks that the offense can improve this season.
"Personnel's better," he said. "I think we've cleaned up some stuff from last year that either we didn't do well or didn't do enough of it or didn't practice it enough. We've pared down a few things, added a few things, some different packages. I like where we're headed."
One key addition has been rookie Cody Whitehair, a second-round draft pick from Kansas State who has been working with the No. 1 offense at left guard.
"He's done well," Cutler said. "He's a smart kid. He's quiet. He kind of fits in with that group and he's doing exactly what we ask him to do. He's really talented. You can see some stuff he does, the way he passes things off, it comes natural to him."
High intensity: With the receiver position hit by injuries last season and to a lesser extent this summer, Cutler and his fellow quarterbacks have had to sharpen their focus.
"With the turnover we've had and the different guys we've had in there, it has just picked up our intensity in the quarterback room with making sure they know exactly what we're thinking," Cutler said. "We're meeting with them as much as we can and letting them know that we need you at this spot at this time, get your depths, and all the things that go into that.
"The working relationship with those guys has grown and is in a really good place so that really no matter who's in there we feel pretty comfortable with them."
Backfield by committee: Cutler likes the depth the Bears have at running back with Jeremy Langford, Jacquizz Rodgers, Ka'Deem Carey and rookie Jordan Howard.
"They all work well together, all like each other, all add different strengths that the coaches are well aware of," Cutler said.
Asked about coach John Fox's desire to employ a backfield by committee, Cutler said: "With this crew we have now it's nice because I think it's really hard in today's league to make it all year with one or really even two backs. Three downs, it's tough work."